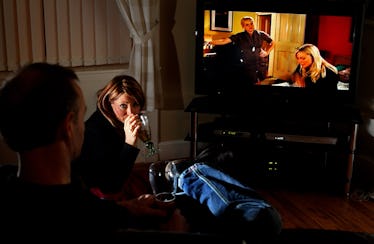 24 Of The Best TV Lines Of 2017 Because TV Was The Only Good Place This Year
Jeff J Mitchell/Getty Images News/Getty Images
In a landscape of political hellfire, where opening up our social media apps went from a way for us to catch up with friends to a way for us to enter a mental pit of endless despair, 2017 became the year of dissociation. When the news was infuriating and heartbreaking all at once, we turned to old vices to give us some sense of normalcy. What better way to practice escapism than by diving into a great TV show, full of compelling storylines about characters who aren't trying to rob us of our civil liberties? Twitter is celebrating a year of phenomenal TV with tweets about the best TV lines of 2017, proving that when the going gets tough, the tough sometimes need to throw on Netflix for a few hours.
The hashtag #BestTVLines2017 is full of rallying cries, sass, and a little bit of wisdom from all of our favorite characters. From Twin Peaks to Riverdale to Big Little Lies, it seems like everyone knew exactly what to say, which was refreshing in an era where so many of us feel speechless. Some of the lines were pause-the-show, drop-everything, freak-out lines, while others were lines merely said in passing that left an impact on viewers. The characters on these shows lifted us up, whether it was through inspirational monologues, hilarious banter, or badass one-liners, and for that, we'll always be grateful.
These are some of the TV lines that kept America going in 2017.
We heard heartwarming lines from couples, friends, and family alike.
Some lines were profound musings on the world as we know it.
Not gonna lie, some of these gave me chills.
Some were sheer badassery.
Remind me to never mess with Thomas Shelby. Or Olivia Pope.
We heard defining moments for shows old and new.
Again, chills.
We cracked up at some jokes we'll definitely be referencing well into 2018.
And we heard one line that was just way too meta.
Some TV fanatics had trouble picking just one line, and honestly, who could blame them?
Those who wanted to give everyone a chance in the spotlight offered compilations of a few of the best lines of this year.
Jen Chaney, a TV Columnist at Vulture, offered a different take.
Her favorite line technically didn't happen on a show, per se. But it did happen on TV, and it was iconic, so it totally counts in my book.
I screamed when Barry Jenkins walked up on that stage. Screamed, I tell you!
This celebration of exemplary TV moments is rather bittersweet given the current climate in entertainment.
This climate emerged with The New York Times' story on a disturbing number of sexual misconduct allegations against Harvey Weinstein. (Weinstein denied the allegations.)
Since the news broke, many other TV icons have been accused of sexual misconduct, including Kevin Spacey, Matt Lauer, and Louis C.K. (Spacey apologized in a statement; Lauer apologized and stated that some of the allegations are "untrue or mischaracterized [him]"; and C.K. admitted to the veracity of the allegations.) There is even a website called Rotten Apples, which allows users to search for their favorite TV shows and determine if the cast, crew, writers, or others involved have been accused of abuse. The site also encourages users to offer information they might have that the site does not.
These newfound attempts at transparency in the industry are an incredible step toward progress for victims of abuse, but confronting the seriousness of this issue has left many feeling triggered, helpless, and unable to enjoy entertainment as a whole. Hashtags like #BestTVLines2017 remind us of the good things that the entertainment industry brought us this year. Not only that, but reading through these lines reminds me how many more fantastic lines there will be when victims are no longer shunned from the industry and are given a chance to have their voices heard.
The hashtag is also bittersweet for those of us who will be saying goodbye to our favorite shows in 2018. With the introduction of new shows (and the revival of some oldies), the end of certain eras of TV is unavoidable. A number of fan favorites will be wrapping up next year, including Veep, Scandal, and You're The Worst, so if you've been meaning to catch up, the time is now! Don't you want to cry along with everybody else?
Check out the entire Gen Why series and other videos on Facebook and the Bustle app across Apple TV, Roku, and Amazon Fire TV.