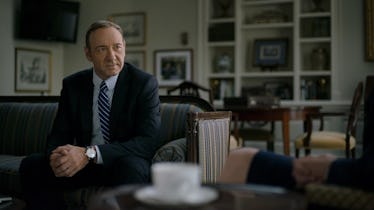 'House Of Cards' May Be Resuming Production Soon, Probably Without Kevin Spacey
Netflix
The House of Cards may not be crumbling after all, but don't expect to see Frank Underwood back in office just yet. The political drama's production team has announced that it is aiming to restart work on the sixth and final season of the Netflix series on Dec. 8, following a monthlong suspension after numerous allegations of sexual misconduct were leveled against star Kevin Spacey. So with the show set to start up again soon, the question everyone is wondering is will Kevin Spacey return to House of Cards or not? It sounds like the last season of Netflix's landmark original series will go on without its star.
The future of House of Cards has been left in flux for the past month, but now it sounds like the show is set to get back on track after an ominous production suspension. Pauline Micelli, SVP of Media Rights Capital, the studio that makes House of Cards, sent out a letter (obtained by Deadline) to the cast and crew of the Netflix hit over the weekend, promising them payment throughout the next two weeks of hiatus up until Dec. 8. Though the letter does not confirm production will indeed resume on Dec. 8, it seems to suggest that is the start date the team is eyeing:
We continue to work with Netflix with the hope of resuming production soon. As we continue these discussions, we have determined together that the crew will be paid for an additional two week hiatus – beginning on November 27th and continuing through December 8th... We will provide an additional update by 12/8/17.
But as House of Cards seems poised to return to work, its star is almost definitely not coming back with it. Shortly after the series suspended its production following growing public allegations against Kevin Spacey at the end of October, Netflix announced that it would not continue to air the series if Spacey was involved:
Netflix will not be involved with any further production of House of Cards that includes Kevin Spacey.
That makes things pretty cut-and-dry, I'd say — if the show is going to return on Netflix, then it's going to have to be without Kevin Spacey. From the Media Rights Capital letter, it sounds like Netflix and MRC has probably already agreed on a start date to resume production, which would suggest Spacey will not be involved in the final chapter of the show. The situation closely mirrors what just went down on the set of Amazon's Transparent, which also recently lost its leading man after Jeffery Tambor was accused of sexual misconduct by some of his castmates. Now, both House of Cards and Transparent will have to figure out how to explain away the absence of their star characters next season.
Luckily for House of Cards, its recent fifth season ended on a pretty perfect note to pivot the show's attention away from Kevin Spacey's Frank Underwood, as Frank's wife Claire Underwood (played by Robin Wright) takes over as President and ices her husband out, ending the season with the ominous words, "My turn." It seems pretty clear that the show may bump Claire up to its focal main character with Frank out of the picture, following her similarly insatiable thirst for power instead of his.
The announcement that the upcoming season of House of Cards will be its last (which came a day before production was suspended) marks an crucial moment in Netflix's original programming. The political thriller served as Netflix's first foray into original programming — and one of its most successful, with 7 Emmys and 2 Golden Globes under its belt. Now, Netflix is focusing nearly entirely on producing original shows and movies, even amassing billions in debt to purchase more and more original properties.
The upcoming sixth season of House of Cards will be its last. If production does resume soon, it will likely premiere in 2018.