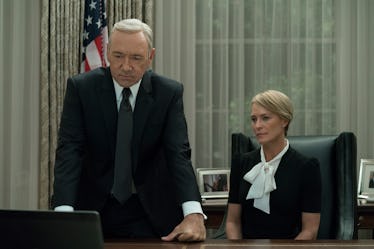 'House Of Cards' Suspends Filming For Season 6 Amid Kevin Spacey Allegations
Netflix
It's been a bad week for Netflix's once bright flagship House of Cards. It began when star Kevin Spacey was accused of sexual assault by Anthony Rapp, followed by the announcement that this coming season of the show (its sixth) would be the last one, a decision that had apparently been made before the allegations first surfaced. Today, Oct. 31, 2017, Netflix has gone one step further, announcing that filming for Season 6, the aforementioned "final season" of HOC, is suspended. But why did House Of Cards suspend filming, since they already canceled the show after this final season?
Yesterday, news broke that House of Cards' sixth season would be its last, reports indicated that this decision did not have anything to do with the allegations against Spacey, which had come out barely 12 hours earlier. The entertainment industry just doesn't move quite that fast, despite it sometimes seeming like it should.
But it has now been over a full day since the producers at Media Rights Capital (MRC), the show runners, the cast and crew, and Netflix all have had time to read Anthony Rapp's interview, digest the allegations he made against Spacey, and discuss what the next steps are. After review, here is the statement that they put out:
MRC and Netflix have decided to suspend production on House of Cards season six, until further notice, to give us time to review the current situation and to address any concerns of our cast and crew.
Cast and crew members were reportedly informed of the shut down this morning, Oct. 31, upon getting to work. According to Deadline:
The Emmy-nominated House of Cards had been in production in Baltimore on its sixth season. Executives from Netflix and MRC arrived in the city Monday "to meet with our cast and crew to ensure that they continue to feel safe and supported" following the allegations.
Spacey was not on set yesterday, according to Deadline, though that was due to the schedule that was already in place before Rapp's interview broke.
The allegations, which were published by BuzzFeed in an interview, Anthony Rapp accused Spacey of sexual harassment in an incident that occurred when Rapp was only 14 years old. Spacey was 26 at the time.
In response Spacey tweeted a statement, saying that he had no memory of the incident, and suggested that alcohol was to blame. He then proceeded to come out as gay.
It's good to see that Netflix and MRC are taking the allegations seriously enough that they decided to pause filming. Though yesterday, Oct. 30, the companies put out a joint statement saying they were "deeply troubled by last night's news concerning Kevin Spacey," it was unclear if they would continue to let filming go on.
House of Cards Season 6 was originally slated to consist of 13 episodes, as the show usually does, and debut in the usual late spring slot of the 2017-2018 TV season on Netflix, in order to qualify for the 2018 Emmys. It is not clear if the stop of production will change either the number of episodes or delay release.
This is actually the second shut down since the final season started filming in Baltimore. Two weeks ago, production was halted when a mass shooting happened about a block away from the set. At the time, fans were assured this would not effect anything.
House of Cards has been Netflix's flagship show since it debuted in 2013. With the coming end of the production, the production companies are already looking into potential spin-offs. According to Variety, which broke the news:
One concept revolves around Doug Stamper, the political aide-de-camp played by actor Michael Kelly in the first five seasons of the political drama, with Eric Roth set to write. Roth served as an executive producer on the first four seasons of House of Cards and is currently exec producing TNT's The Alienist. At least two other spinoff ideas are also being explored, though writers have not yet been attached to all of them.
We certainly hope at least one involves Robin Wright, who has played Claire Underwood, the wife of Kevin Spacey's Frank Underwood, for the past six years.
As most fans noted on Twitter yesterday, it was high time she got a turn to lead. Let's hope they're listening.