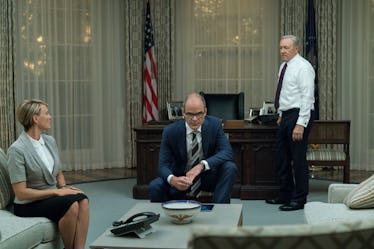 'House Of Cards' Will End After Its Sixth Season & Fans Aren't Sure How To Feel
Netflix
Welcome to Monday! While in the real world our president is undergoing a little holiday known as Indictmas, over in the entertainment world, the fallout that began with Harvey Weinstein's scandal continues. In the wee hours of last night, Anthony Rapp alleged that he was sexually assaulted by Kevin Spacey at age 14. Spacey, in response, chalked it up to drunken behavior, before coming out as gay. Now, Netflix is announcing that the sixth season of House of Cards will be the last. However, we should be very clear here: These two things are not actually related.
The entertainment industry simply doesn't move that fast. Political pundit Mark Halperin was accused at the beginning of last week of sexual assault, for instance, and NBC only just got around to terminating him this morning. Halperin, for his part, denies any wrongdoing, while still issuing a statement that apologizes for the "pain and anguish I have caused by my past actions."
According to The Hollywood Reporter, who broke the news this afternoon, this decision to shut down House of Cards has actually been in the works since this summer. With production for Season 6 already underway in Baltimore, and a very final ending in the scripts, those who were working on the production probably already guessed it was ending, if they hadn't already been told. It's just that the announcement happened to come right at the time of the allegations against Spacey.
As mentioned above, Anthony Rapp, who is an openly gay actor, claims he had been sexually assaulted by Spacey decades ago when he was 14 and Spacey was 26.
In response, Kevin Spacey released a sort-of apology, claiming that he was so drunk, he doesn't actually remember if it happened.
This was followed by Spacey coming out of the closet as a gay man, a move that many LBGT activists decried as what would be referred to on House of Cards as a "narrative changer" in order to deflect from the actual charges at hand.
LGBT activist Dan Savage was not impressed by the "apology."
George Takei had this to say:
As some media outlets began to go with the narrative change, activists told them to stop.
Many prominent voices in Hollywood just weren't having it.
Meanwhile, with production only a couple weeks in, fans of House of Cards began loudly suggesting that perhaps Spacey's Frank Underwood should be written off the series and someone else given the leading role.
Other fans hoped this made it a given.
Others saw this as proof that nothing is good in this world, neither in the real or fictional one.
Bets were apparently already being made on how long until Netflix came forward with some sort of announcement.
But even these fans didn't see this coming so quickly.
The demise of House of Cards isn't that big of a surprise. When it originally debuted, it was the show that put Netflix on the map. When it arrived in 2013, it was the first big splash by the streaming service, and the first show to put "binge-watching" in the common vernacular.
House of Cards has been a perennial Emmy nominee, though it only won once, for Outstanding Directing for Season 1 in 2014. It was also a Golden Globe favorite with wins for Robin Wight for Best Actress as Claire Underwood in 2014 and Kevin Spacey for Best Actor as Frank Underwood in 2015.
But with new series on Netflix taking off at far higher astronomical rates like Stranger Things, and Hulu showing up both Netflix and Amazon at the Emmys this year as the first streaming service to sweep the drama category, Netflix is refocusing with what THR calls a "slightly shifting strategy."
The service, which once seemed allergic to ever canceling series, has begun to make it a regular practice. With House of Cards bringing diminishing returns in critical reception (and suddenly no longer as outlandish, compared to the political climate), but still averaging an estimated $55 million budget, perhaps Netflix thought it would be best to get out while they were still ahead.
Unfortunately for those who were hoping to see Robin Wright take over the show, it's not going to happen.
Others reflected on the irony of the entire situation.
That's the way 2017 goes.