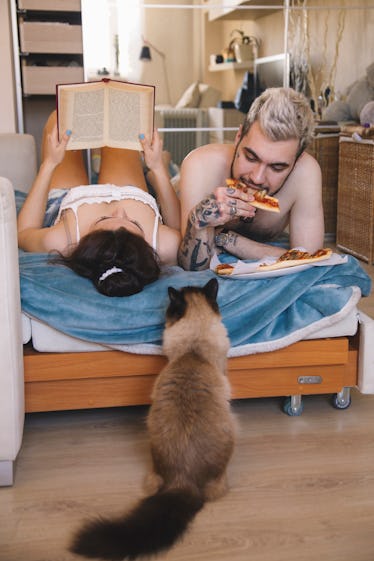 24 Tweets About Moving In Together That Show Domestic Bliss Can Take On Many Forms
If you've never had a roommate, let me tell you: Sharing space with another person is not always easy. From hearing each other's sounds to eating each other's food, living with someone you're dating can mean a lot of communication and compromise and, of course, a lot of gooey snuggling and being in love. When it comes to summing up the highs and lows of shacking up with your boo, these tweets about moving in together do a pretty stellar job. What you can't say, someone else probably can — in 280 characters or less, no less.
There is no one right way to navigate your romantic relationship, just as there's no timeline you're supposed to keep to. Still, no matter how long you've dating, moving in together can be a pretty big step in your relationship. But you know what? If you're committed to sharing a kitchen and picking out a bedspread you both like, you're probably pretty committed. Moving in together can be a big transition, and it's completely natural to have a couple of bumps along the road to finding harmony in your joint home.
Here are 24 tweets about moving in with your partner that truly show how domestic bliss can take on many forms.