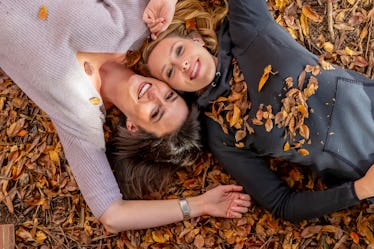 24 Pumpkin Spicy Instagram Captions For Thanksgiving Pics With Your SO
Shutterstock
Although you and your boo are obviously already the cutest couple around, nailing the perfect Instagram captions for Thanksgiving photos with your significant other can give your cute couples pics an extra sprinkle of (pumpkin) spice this holiday season. From a sweet selfie to a candid, in-the-kitchen snap (that was completely staged by your little sister), holiday photos can be the perfect way to remember and share special memories. Whether you've just started seeing someone new or you've been smooching your honey for a while, posting a Turkey Day picture can be a great way to spread your cheer with all of your friends and family.
Without the extra stress of the winter holidays and a far cry from the FOMO the New Year's Eve, Thanksgiving is a time to eat a ton of good food, reflect on everything that brings you joy, and celebrate with loved ones — even if that means virtually tuning into a Zoom feast. Maybe you and your partner get matching turkey sweaters from the Goodwill down the street, or perhaps you both prepare for your dinner by wearing your favorite earth tone sweatpants.
Whatever the case, these 24 cute and quippy captions for your Thanksgiving couples pics will really give you something to be grateful for.
Here's to surviving another holiday not talking about politics with either of our families.
Glad our family members are "day-drinking at home people" and not "5K in the morning" people.
Not pictured: The matching stretch-pants we're about to put on.
I Googled, "Cute Couple Holiday Poses," then made *partner's name* recreate them with me.
I'm so grateful for *partner's name,* so I'm posting the one where they look cuter.
I'm so grateful my family likes you more than they like me.
Thankful for you every day, but today you get an Instagram post.
I can't wait to eat too much and then complain about it.
Thanks (for) giving me so much to be thankful for.
I love you almost as much as I love gravy.
I love you from your head to your po-ta-toes.
I can't wait to rock your gravy boat later.
I'd take a second helping of you.
You're the whipped cream to my pumpkin pie.
Thanks for adding a little (pumpkin) spice to my life.
You didn't make me watch the game this year, and for that, we can both be thankful.
I like you even though you like pecan pie more than pumpkin!
Thank you for letting my mom take this (and 50 other) pictures of us.
Thank you for making me take this picture when I was hangry. I am now full of food and gratitude.
Thank you for giving me so much to be thankful for every day.
Grateful.
It takes two to tango — and two to really mess up an apple pie.
Been fallin' for you for a while.
I love you, even though you burned my pie in the oven this morning.
This article was originally published on