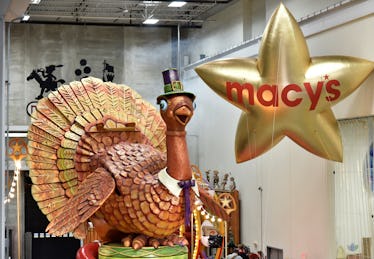 24 Captions For The Macy's Thanksgiving Day Parade That'll Take Your Insta To New Heights
Eugene Gologursky/Getty Images Entertainment/Getty Images
Of course, turkey, stuffing, and pumpkin pie are essential, but Thanksgiving wouldn't be complete without watching the Macy's Thanksgiving Day Parade, right? Every year growing up, I set my alarm and woke up early to watch The Rockettes and elaborate floats on my TV screen. My sister and I got so excited about the different musical acts, and of course, seeing the giant balloons rise above the city. When I moved to New York City for college, I finally got the chance to see them up close and personal as they floated down Central Park West. Whether you're watching the magic unfold in The Big Apple or from the comforts of your couch at home, you'll need some captions for Macy's Thanksgiving Day Parade pics.
I highly recommend that you add visiting New York City during Thanksgiving to your bucket list ASAP. You can walk around with your squad and snap pics in front of your favorite balloons as they're getting inflated and all set for their big debut. Be sure to stop by Levain Bakery for a chocolate chip cookie and Starbucks for a hot cocoa first, so you have something to snack on while you're strolling along Central Park. It will put you right in the holiday spirit.
It should also be on everyone's bucket list to watch the parade in person at least once. Though, I do love the coziness of watching at home with my family in my PJs. Whether you have a squad pic in front of your favorite balloon, or a selfie with mom while you're watching at home, consider using any of these 24 parade captions for Instagram, and have a happy Thanksgiving!
1. "Always say yes to new adventures."
2. "Your life is like a balloon... if you never let yourself go, you will never know how far you can rise." — Linda Poindexter
3. "Let your dream take flight."
4. "Let's get carried away this Thanksgiving."
5. "Life's candy and the sun's a ball of butter. Don't bring around a cloud to rain on my parade." — Funny Girl
6. "Dream big."
7. "And we'll all float on okay." — Modest Mouse, "Float On"
8. "Up, up, and away."
9. "Patiently waiting for Santa at the end of the parade."
10. "I love the Pillsbury Doughboy balloon dough very much."
11. "It seems Thanksgiving Day is upon us." — A Charlie Brown Thanksgiving
12. "The Tom Turkey float has the turkey to my heart."
13. "You're a mean one, Mr. Grinch." — Dr. Seuss
14. "Some people are worth melting for." — Olaf, Frozen
15. "Thanksgiving is a very important holiday." — A Charlie Brown Thanksgiving
16. "Serendipity happens."
17. "The only bird I'm excited about is seeing Big Bird in the parade."
18. "Eat, drink, and watch the Macy's Thanksgiving Day Parade."
19. "The sky is the limit."
20. "Dream up."
21. "Got my feet on the ground, and my head in the clouds."
22. "Don't just fly, soar." — Dumbo
23. "Whatever floats your parade."
24. "Enjoy the little things."