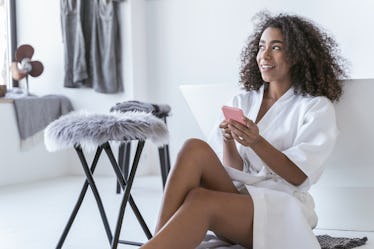 23 Sexy Questions To DM Your Crush That Really Bring The Heat
Shutterstock
Let's be real: No one ever wants to get hit with an unsolicited DM that reads, "Hey Hottie! Will you send me a sneaky pic?" IMHO, exchanging sexy messages over the internet can be like recreating Love Letters of Great Men, but for millennials. However, much like writing the perfect letter, penning a message that's both sensual and not cringe-worthy takes some practic eand finesse. If you're looking for some inspiration, these 23 sexy questions to DM your crush are the perfect place to start.
No matter how long you've been crushing on someone, it's important to be in tune with their comfort level and feelings before sending a sexy message. Consent is a necessary part of all sexual behavior — IRL, and, yes, in the DMs. While making the first move can be daring (and often appreciated!), ensuring everyone's comfort and boundaries is also important. And whether you're gearing up to exchange nudies or just want to have a flirty convo, asking your crush a sexy question in their direct messages can be a great way to open up your conversation.
Here are 23 sexy questions to DM your crush. Yes, they are categorized by Taco Bell sauce heat levels.
This article was originally published on