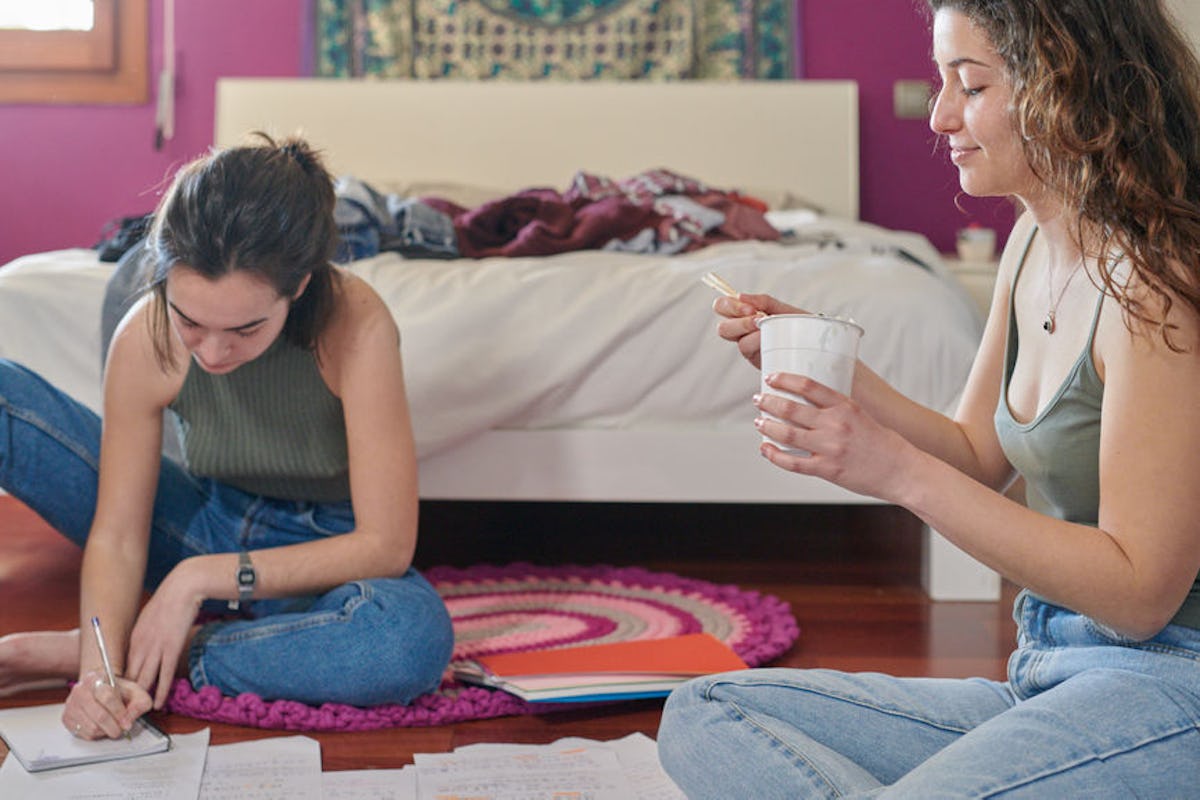 23 Captions For Your Dorm Room Pics, Because It's Your New Home Sweet Home
Your dorm in college is your home away from home. Sure, your family isn't down the hall, but it'll be the place you eat, sleep, study, and have your new friends over for Netflix marathons. You get to set it up however you and your roomie want, and it's going to be so cute. You'll need some dorm captions for Instagram when it comes time to show your followers the great job you did decorating.
If this is your first dorm room, taking pics and capturing the process of putting it together is a must. How many times are you going to be a college freshman decorating your first dorm room? It's going to be so exciting, so you can't forget to snap pics of those insightful wall decals and cute tapestries you picked out.
Your dorm room should include things that put you at ease. A small bookshelf for all of your journals and travel books, in addition to some colorful string lights are some things that add personality to your room. You might have a roommate, but if you're lucky, you both will be as equally as dedicated to making your entire room a depiction of who you two are. I know you have your work cut out for you shopping and arranging everything just perfectly, but be sure to pin any of these 23 captions underneath the pics of your dope dorm room.
1. "Welcome to my home sweet home." — Unknown
2. "Be happy. Be bright. Be you." — Unknown
3. "Just gave my dorm room the best makeover." — Unknown
4. "Can you tell an excited freshman lives here?" — Unknown
5. "I don't think I have seen so much school spirit in my life." — Unknown
6. "My roommate > your roommate." — Unknown
7. "I make this #dormlife look good." — Unknown
8. "Loving my new home away from home." — Unknown
9. "Not too shabby for a college freshman." — Unknown
10. "Toto, I've a feeling we're not in Kansas anymore." — Dorothy, The Wizard of Oz
11. "Too glam to give a damn." — Unknown
12. "I'm livin' my best life." — Cardi B, "Best Life"
13. "Less impressing, more expressing." — Unknown
14. "My first project in college was my dorm room. Think I aced it!" — Unknown
15. "Home is where the heart is... or at least where you keep your Ramen." — Unknown
16. "A room should never allow the eye to settle in one place. It should smile at you and create fantasy." — Juan Montoya
17. "Who said nights were for sleep?" — Marilyn Monroe
18. "Happiness is homemade." — Unknown
19. "As we evolve, our homes should, too." — Suzanne Tucker
20. "What is done in love is done well." — Vincent van Gogh
21. "Pick what you like because living with a trend that is not you is never a good choice." — Thomas Pheasant
22. "Oh boy, it's good to be home." — Unknown
23. "Some people look for a beautiful place. Others make a beautiful place." — Hazrat Inayat Khan
You'll always love your room back home, but your dorm is your first adult space to decorate how you please. Make it a home you'll love going back to after class.