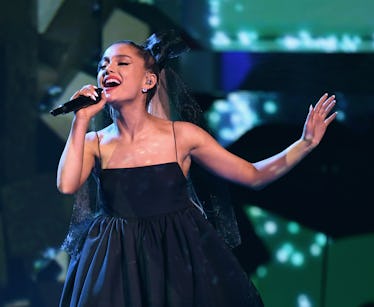 22 "Thank U, Next" Lyrics To Caption Your Confident Post-Breakup Selfie
Kevin Winter/Getty Images Entertainment/Getty Images
Ariana Grande released her new single, "Thank U, Next," on Saturday, Nov. 3 not long before her ex-fiancé, Pete Davidson, took to the stage on Saturday Night Live. Unlike what I might have written about my exes in the past, Grande took the high road and wrote an empowering song that says "thank you" to her previous relationships as she moves on, and it's giving me so much life right now. In my personal opinion, it's the anthem many of us need to hear, and "Thank U, Next" Instagram captions are the perfect way to post a confident post-breakup selfie that screams, "I'm fine."
In the song, Grande drops the names of her exes to say exactly why she was grateful to have been with them. She mentions Big Sean, Ricky Alvarez, former fiancé Pete Davidson, and the late Mac Miller. Although each relationship was different, at the end of the day, the lyrics suggest that Grande has learned a lot from all of them. The song turns into an anthem of self-love when Grande shouts out herself (and I think everyone needs to be jamming out to it right now if you're not already).
You can use any of these 22 "Thank U, Next" lyrics for your next self-love selfie on the 'Gram. You might even want to use one of them for a #squadgoals pic with your main girls, because they're always there through life's ups and downs. Now all I have to say is thank you so very much, Ariana Grande, for this banger of a song that I will be dancing to as I throw my arms up in the air, dance, and move on to better things.
1. "But he wasn't a match."
2. "Now I listen and laugh."
3. "Even almost got married."
4. "(Song is a smash)."
5. "One taught me love, one taught me patience, and one taught me pain. Now, I'm so amazing."
6. "I've loved and I've lost, but that's not what I see."
7. "So, look what I got. Look what you taught me."
8. "And for that, I say, Thank you, next."
9. "I'm so f*ckin' grateful for my ex."
10. "Spend more time with my friends."
11. "I ain't worried 'bout nothin'."
12. "Plus, I met someone else."
13. "I know they say I move on too fast, but this one gon' last."
14. "She taught me love, she taught me patience, how she handles pain. That sh*t's amazing."
15. "I've loved and I've lost, but that's not what I see."
16. "Ain't no need for searching, and for that, I say, Thank you, next."
17. "One day I'll walk down the aisle. Holding hands with my mama."
18. "'Cause she grew from the drama."
19. "Only wanna do it once, real bad. Gon' make that sh*t last."
20. "God forbid something happens. Least this song is a smash."
21. "I've got so much love, got so much patience. I've learned from the pain. I turned out amazing."
22. "Thank you, next."