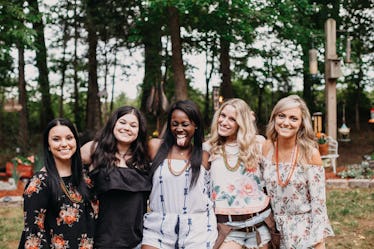 21 Clever Captions For The Home Friends You'll Never Let Go Of
Fall is right around the corner, which means it's almost time to say goodbye to your hometown friends as you pack up your things and head off to school. You may go to college across the country from your besties, but distance has nothing on friends who have been close since day one. It's been years since I've even lived in the same state as my friends from home, but that doesn't mean that we're not still friends for life. The miles won't break us up, and whenever I miss them, I like to post a throwback pic with some Instagram captions for home friends, to make it feel like they're right there with me.
Long-distance friendships can be a struggle to maintain, but that's what's so great about social media. It brings you together instantly, and you can post just as quickly with any of these 21 quotes about friends for your next caption. With a sweet and simple post, memories of being back home and enjoying your favorite hangout spots together will come flooding back to you. That's what's so special about your home crew. It's as if you share the same DNA, speak the same language, and they'll never be far when you need them the most.
1. "Truly great friends are hard to find, difficult to leave, and impossible to forget." — G. Randolf
2. "If there ever comes a day when we can't be together, keep me in your heart. I'll stay there forever." — A.A. Milne
3. "Rollin' with the homies." — Clueless
4. "Best nights are meant for the besties." — Unknown
5. "Home is wherever I'm with you." — Edward Sharpe and the Magnetic Zeros, "Home"
6. "I was told every day in my childhood, even when we grow old, 'Home will be where the heart is.' Never were words so true. My heart's far, far away. Home is, too." — Beauty and the Beast, "Home"
7. "I get by with a little help from my friends." — The Beatles, "With a Little Help from My Friends"
8. "'Cause baby there ain't no mountain high enough, ain't no valley low enough, ain't no river wide enough to keep me from getting to you." — Marvin Gaye and Tammi Terrell, "Ain't No Mountain High Enough"
9. "I may not always be there with you, but I will always be there for you." — Unknown
10. "Friendship is greater than distance." — Unknown
11. "With you, I am home." — Unknown
12. "I wish I could teleport to you." — Unknown
13. "Where you are is where I want to be." — Unknown
14. "I am a firm believer that people who are meant to be in your life will come back no matter how far they may wander." — Unknown
15. "There's comfort in having history with a place and its people." — Unknown
16. "The only home run I know is running home to see you." — Unknown
17. "Though we're far apart, internet connects our hearts." — Unknown
18. "Distance means nothing when someone means everything." — Unknown
19. "Can you feel that? It's the hug I'm sending you." — Unknown
20. "For the two of us, home isn't a place. It is a person. And we are finally home." — Stephanie Perkins
21. "You and me got a whole lot of history." — One Direction, "History"