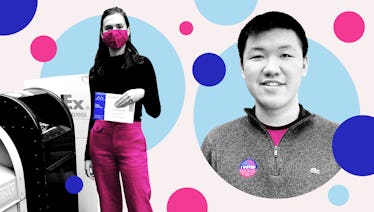 Voting Is The Best Part Of 2020 For These First-Time Voters
Courtesy Abby E. / Victor Y.
There's a lot at stake in the 2020 presidential election. Voters are not just electing a leader but weighing in on issues like affordable health care, climate action, LGBTQ+ rights, gun violence prevention, federal judge appointments, and so much more. Everyone has a different story about what got them to the polls, which is why Elite Daily asked first-time voters to share their stories about why voting is so important to them this year.
As Election Day approached, voter turnout skyrocketed. As of a week before Election Day, more than 60 million voters had already cast their ballots in the presidential election, per The Washington Post, and a lot of them are young. Gen Z is expected to make up about 10% of voters in this year's election, and they're turning out. As of Oct. 30, more than 7 million young people ages 18 to 29 had already cast their ballot by mail or in early voting, according to data from Tufts University. If this momentum continues, the 2020 presidential election could see impressively high rates of youth voter turnout. So much for the old stereotype that young people don't care about politics.
Elite Daily spoke to 21 Gen Z first-time voters across the nation about why they're voting in 2020, what's at stake, and why you should care, too. Here's what they have to say about casting their ballot at such a pivotal moment for the country.
These interviews have been edited for length and clarity.
This article was originally published on