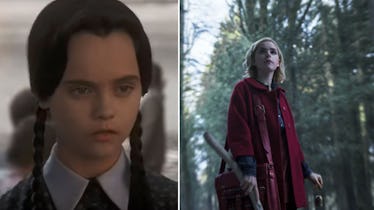 Here Are 2018's Easiest Halloween Costumes That You Can Throw Together Like Magic
Not to make you freak out or anything, ghoulfriend, but Halloween is right around the corner. I love Halloween and always want to have an epic costume, but coming up with the best one can be such a struggle. I keep going back and forth between different ideas all month long, and the day creeps up closer and closer. Sometimes, you just have to throw together a last-minute outfit. It happens to the best of us. Whenever you're in a pinch, you can still look fab with 2018's easiest Halloween costumes.
Sure, these costume are super easy to put together, but the best part is you won't look like you procrastinated at all. And if you're the queen of Halloween who has been invited to multiple parties, you can throw together different looks with any of these five costume ideas. That way, you don't have to spoil the big outfit you have planned for All Hallows' Eve.
In a matter of seconds, you will look fab enough to post a costume selfie to the 'Gram. (Shoutout to all my lazy girls out there!) You won't need to break a sweat putting any of these outfits together, either. Instead, go back to eating your favorite Halloween candy, prepping the cauldron punch, and watching Hocus Pocus for the millionth time.