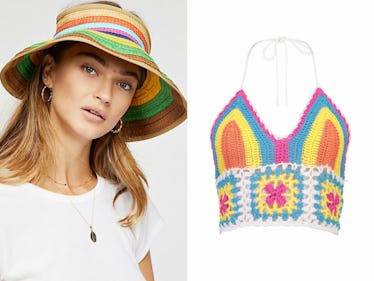 2018's Biggest Festival Trend Is Rainbow, So My Little Pony Should Be Your Style Muse
Free People/Boohoo
Each season, new silhouettes, textiles, accessories, and styles take over as the trends du jour. And while there's usually one hue in particular — like powder blue or millennial pink — that reigns supreme, this spring, it's all about the full spectrum. 2018 trend colors include rainbow, aka every glorious hue on earth, so get ready to have your brightest spring — and festival season — yet.
Even if you don't follow the world of high fashion, you can't deny that the trends that take to the runways of Paris, New York, and beyond each season trickle down into the world of fast fashion and subsequently popular culture. The Guccis and Pradas and Chanels of the world play a huge role in dictating what retailers like ASOS and Zara will stock each season, which is how we already know that ROYGBIV is about to be everywhere (can I get a HAIL to the yes?). Designers including Dolce & Gabbana, Missoni, Libertine, Jeremy Scott, Anna Sui, and more all championed the technicolor '70s-meets-My Little Pony trend on their spring runways, so let's go chase some sartorial rainbows, yes?!
If you're a fellow festival fan, then you already know how epic this trend could be at Coachella, Gov Ball, Bonnaroo, EDC, and beyond. I can't think of a single better occasion to become a walking kaleidoscope for, and I can't wait to see the ways in which fashion mavens will mix and match Lisa Frank-inspired pieces. To help you get a head start on your festival style game, I found 15 of the coolest rainbow pieces that are out there right now. Get your pot of gold ready, because you'll want them all.
I'm a Leo
Soft body suits are the most comfortable things to wear with high waisted shorts aside from crop tops, and this striped one looks comfy AF.
Brace Yourself
It's got a rainbow, "LOVE," and a smiley face — what more could you want in a boho chic bracelet?
Slip-Up
A '70s take on the '90s slipdress. Style it like above for any fancier springtime soiree, or with a pair of white sneaks and a topknot for a day spent dancing in the sun.
Fashion Statement
How is this rainbow, you ask? "Arc en ciel" is the French way to say rainbow, so if technicolor isn;'t your thing, this is one way you can still jump on the trend train.
Pumped Up Kicks
In middle school, I changed my shoelaces all the time on my Vans. Considering I usually opted for a Care Bear variety, these tie dye ones are way cooler.
To the Brim
Get your head out of the clouds and into the rainbows. This grandma-chic topper would be a hit at festivals — imagine the photo opps.
Track Star
Like classic Adidas striped pants, but brighter and therefore cooler.
Babe Alert
Channel your inner Rainbow Brite with this confidence-boosting tee.
Beam Me Up
My friends call me "The Marshian" (my last name is Marsh), so these socks are right up my alley. They're silly, weird, and out of this world — perfect festival attire.
Halt!
A Woodstock fairy called and she wants her crochet top back! This halter screams summer of '69 and would look killer paired with some wide-leg flares.
Golden Arches
A subtle way to do a loud trend, these delicate rainbow earrings could be worn year-round and to pretty much any occasion.
Suit Up!
If an electronic music festival is in your future, you absolutely need this catsuit. Comfy, bright, and a little bit trippy, it's perfect for the occasion.
Chasing Rainbows
The beloved white sneaker gets a blinding update.
Totally Tubular
Crochet tube tops already scream Coachella, but throw in a handful of bright colors and you've got yourself a festival wardrobe mainstay.
Skirt the Issue
This might be my favorite piece of them all! I love the shine factor of the colorful metallic stripes and the high waisted silhouette of the skirt.