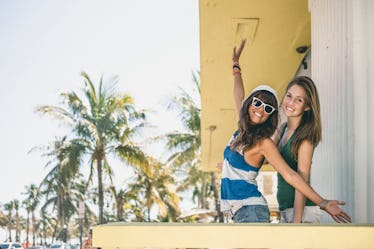 7 Spring Break Ideas For College Freshmen If You're Too Broke For The Beach
Joselito Briones/Stocksy
Spring break is so soon, and if it's your first year in college, you're probably more than ready to jet set somewhere tropical with your best friends. Unfortunately, the beach can quickly get expensive. Between booking flights, hotel rooms for the week, and splurging on some new bathing suits, your bank account will be struggling a bit. Somewhere in your budget you had to make room for books and all those cups of coffee (There's truly no other way to survive the semester.). But, being broke doesn't mean you have to be bored. There are plenty of 2018 spring break ideas for college freshmen that are cheap and filled with fun — even if it's not totally in the sun.
You might need to trade the surf for some turf. Sure, you were hoping to get your tan on, but there will be plenty of time in the years to come to take off to an island or hit up a cruise with your crew. Surviving off ramen won't be reality forever, and maybe you'll even spend your spring break picking up some shifts at work to fund your future wanderlust.
When the travel bug hits, it's difficult to not immediately pack some bags and blow so much cash in the spirit of spring break. So, if you're trying to talk yourself out of a trip, consider one of these seven spring break ideas instead.