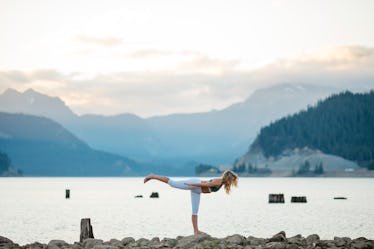 These Spring Break Yoga Retreats Are Exactly What You Need To Clear Your Head & Relax
Spring break is right around the corner, so it's time to start planning your warm, relaxing, and rejuvenating getaway so you can finally escape reality for a little while. Even though your friends might be planning these elaborate, boozy, aggressively wild vacations, you may be thinking an opportunity to chill and find your zen sounds way, way more appealing. If that sounds like you, then looking into spring break yoga retreats might be the way to go so you can make the most of your mini vacay and give your body and mind some major TLC.
Let's be real: In the past, getting lit AF with your friends every single night of spring break and returning home with the permanent smell of tequila seeping out of your pores was great for a little while, but that got old really fast. Personally, my body will no longer stand for such springtime shenanigans, and I need a getaway focused solely on rest and relaxation this time around.
If you feel me on a spiritual level, it's about time you trade in the tequila and late nights out for some tree pose and lengthy meditation sessions. Oh, and in case you're wondering, these retreats aren't just about rolling out your mat and finding your zen. Your spring break days will be filled with sight-seeing, surfing, and breathtaking sunsets as well, so get ready, girl.
If you're on the fence about what to do this spring break, but you know you need some major self-care, these five yoga retreats are exactly what you need to clear your head, reset, and relax.