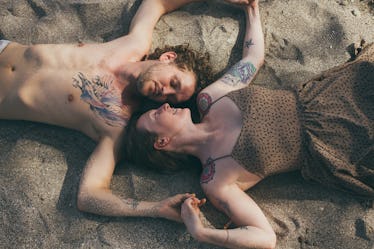 20 Valentine's Day Instagram Captions For A Long-Distance Relationship That Are Heartfelt As Ever
If you're in a long distance relationship (LDR), expressing your love and devotion to your partner is not something exclusively saved for Feb. 14. When physical closeness is not a possiblity, couples need to rely more on a verbal way to let each other know how they feel. For people in LDRs, Valentine's Day Instagram captions from the heart can help show your partner (and the world) how much they mean to you.
Akin to many of the singles out there (sure, some singles DGAF), Valentine's Day can be just as lonely for someone in an LDR who can't be with their SO on that day, especially since you're likely already missing them. Carving out the time to make the day count and assure each other that you're still there for them can help to build a stronger connection and a lasting relationship. Taking advantage of the holiday known for grand displays of affection by bringing public attention to your digital relationship bubble will definitely help.
Now, you just have to decide if you want to go with a sappy caption or funny caption.
1. "I may not be next to you physically, but I'm always on your side." — Unknown
2. "Ain't no 🏔 high enough, ain't no valley low enough, ain't no river wide enough, to keep me from getting to you, babe." — Marvin Gaye
3. "Missing someone gets easier every day, because even though you are one day further from the last time you saw them, you are one day closer to the next time you will." — Unknown
4. "When I'm with you, I feel so safe. Like I'm home." — Garden State
5. "Because of you, I always have something to look forward to." — Unknown
6. "Distance means so little when someone means so much. ❤️️" — Unknown
7. "People think our LDR is hard on us, but they don't realize that our relationship is an endless vacation." — Unknown
8. "And ever has it been known that love knows not its own depth until the hour of separation." — Khalil Gibran
9. "Distance does not dictate who you love." — Unknown
10. "Home is not a place anymore. Home is whenever we are together." — Unknown
11. "I carry your heart with me (I carry it in my heart)." — E.E. Cummings
12. "Cupid had a long flight the night he struck us, but it was worth every mile. ✈" — Unknown
13. "Whenever I'm alone with you, you make me feel like I am whole again. However far away, I will always love you!" — The Cure
14. "If the only place where I could see you was in my dreams, I'd sleep forever. 😴" — Unknown
15. "Being in a long-distance relationship means no cards for Valentine's Day; our entire relationship is a love letter. 💌" — Unknown
16. "My heart is your home, wherever in the world you are – you will always have a place to stay." — K.A. Hill
17. "I am in my bed. You are in your bed. One of us is in the wrong place. 😏" — Unknown
18. "If you think missing me is hard, you should try missing you." — Unknown
19. "How do I know this long-distance relationship is worth it? You are my favorite hello and my hardest goodbye." — Lisa McKay
20. "I wanted to send you something sexy for Valentine's Day, but the mailman told me to get out of the mailbox." — Unknown
Maybe you can't post a photo of the two of you together IRL this Valentine's Day, but a heartfelt caption on an old photo or a poorly Photoshopped Skype screenshot is worth a thousand pictures. (You get the jist.)
Check out the entire Gen Why series and other videos on Facebook and the Bustle app across Apple TV, Roku, and Amazon Fire TV.
Check out the "Best of Elite Daily" stream in the Bustle App for more stories just like this!