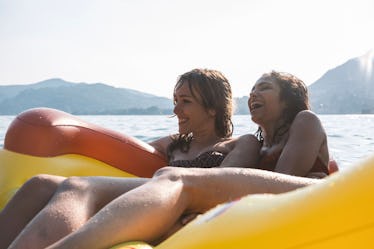 20 Summer Date Night Ideas On A Budget That Are Flirty But Frugal
As soon as the weather warms up and the days get longer, you can start getting pretty darn creative coming up with summer date night ideas. When the weather gets nice there are so many different activities at your disposal, as well as events happening around town. Being on a tight budget doesn't mean you can't enjoy bae's company on a dreamy summer date. If you're trying to come up with a summer's worth of creative date ideas, consider researching what's happening locally or in neighboring towns or cities. Is there a giant sunflower field that's just a drive away? That would be perfect to roll up to at sunset, and you can plan the date for when the flowers are fully blooming. Is there a festival happening soon? Consider planning a day around attending and taking in the festivities with your partner.
If you'd love to get out of the heat, your movie theater might have some nights when films are cheaper, or seeing a matinee could be friendlier to your budget, while providing some sweet, sweet time spent in air conditioning. Research your local museums and community spaces and find out about events and free exhibitions that would be perfect to stroll through while holding hands.
Summer is a fantastic time to date on a budget, so here are 20 super romantic date ideas that are also easy on your wallet.