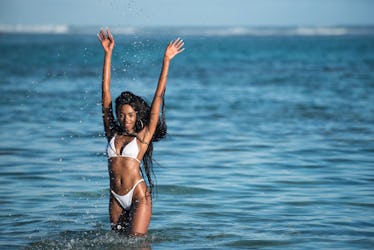 20 Quotes About The Ocean For Your Salty & Sweet IG Captions
Shutterstock
It's time to set sail on an epic summer ahead. The ocean is calling for beach days, watching the sunset in the sand with your SO, and taking a coastal ride with your pup sitting shotgun. If you live by the ocean, you're always tempted to drive to the shore and take in the salty air and gorgeous views, which is why quotes about the ocean are perfect for your Instagram snaps. Even though you'll inevitably be finding sand at the bottom of your beach bag for months, it's worth it for a quick walk along the shoreline and dipping your toes in the water.
There are so many things you can do by the ocean for a fun-filled day. You could try surfing for the first time and catching a big wave. If you've got a pup who loves to frolic in the sand and sea, he will probably love being at the beach all afternoon. If you're more the relaxing type, the beach is a great place to lounge with your summer read while sipping a tasty fruit smoothie.
The ocean is also a romantic spot for your day date with bae. Bring a picnic basket along with your Polaroid camera, and capture the sweet moments cuddling close with the waves crashing in the background. It's hard to capture those perfect beachy waves, so snap as many ocean selfies as you can. Show off your brand new swimsuit with a photo shoot by the shore, using some creative Instagram filters.
Use your beach trip to make a music video-worthy Instagram Reel of you dancing to your favorite song of the summer, or trying to recreate the "Part of Your World" moment from The Little Mermaid while basking in the sunshine on a rock. The possibilities are as endless as the ocean, so whatever your plans are, be sure to use any of these 20 ocean quotes to caption your water-ful pics.
1. "I'm always happy when I'm surrounded by water, I think I'm a mermaid or I was a mermaid." — Beyonce
2. "Mermaiding is our favorite activity."
3. "I wish to be wild and free just like the sea."
4. "You can't stop the waves, but you can learn to surf." — Jon Kabat-Zinn
5. "A woman's heart is a deep ocean of secrets." — Titanic
6. "Sometimes, life is just better when you're barefoot on the beach."
7. "Just a couple of curious oysters."
8. "Nothing to sea here."
9. "Felt cute. Might seas the day a little bit longer."
10. "It's always a good day to dance with the waves."
11. "Sea you on the next wave."
12. "Dream higher than the sky and deeper than the ocean."
13. "Sunsets are better when they're over the ocean."
14. "Lessons from the ocean: Today's a good day to make some waves."
15. "There's no color quite like the ocean."
16. "The deep blue sea was meant for you and me."
17. "Dance with the waves, move with the sea, let the rhythm of the water set your soul free." — Christy Ann Martine
18. "Let's dance by the shore at midnight."
19. "It's a shell of a life."
20. "We're feelin' a bit salty today and that's perfectly okay."
Use one of these quotes to caption a photo dump of all your favorite throwback ocean pics from the summer. It'll be a nice way to say goodbye to your fave season. Or, use several captions you love to give each one of your fave snaps its own dedicated post. Store the quotes you don't use in your go-to beach bag along with your fave pair of sunnies and some sunscreen, so you always know just what to say the next time you're hanging out by the ocean.
This article was originally published on