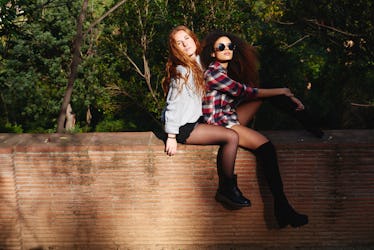 20 Outdoor Fall Activities For Couples That Will Leaf You Smitten
Guille Faingold, Stocksy
It's fall, y'all — AKA the best time of year to document your adorable dates. Honestly, what's not to love? You have the perfect excuse to bust out all those stylish layers, the colorful changing leaves provide the perfect backdrop for pics, and best of all, it's not too cold quite yet to enjoy the great outdoors. No matter where you live or what your interests are, there are so many outdoor fall activities for couples that present the perfect bonding opportunities.
While you may be itching to take your dates indoors as the temperatures drop — say, by cozying up next to a fireplace or baking a fall treat — there are lots of legit reasons why you might want to stay outside. According to the Centers for Disease Control and Prevention, COVID-19 is primarily spread via close contact with other people — which is why the agency recommends socializing outdoors, where the risk is lower, whenever possible. Not only that, but winter is right around the corner. Since it'll be harder to hang outside once the temperatures plunge even further, you might as well take advantage of the fresh air now.
Whether your idea of a good time involves getting active and going on an adventure or sharing a bottle of wine over a movie, there's an outdoor activity for every kind of couple. So, throw on your cutest flannel, pour out a pumpkin-spiced cold brew, and have your camera at the ready — because these fall date ideas are anything but basic.