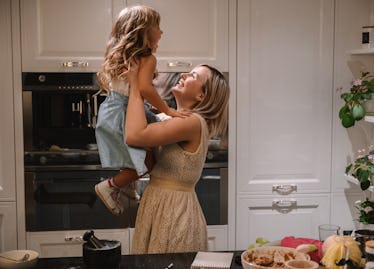 20 Instagram Captions For Your Niece's Birthday That Are Sweeter Than The Cake
The day your niece was born was officially the day you got to add a new title to your business card: cool aunt. You love your niece for being the cutest kid you know, so you definitely want to spoil her with all the love and affection on her birthday. Plus, you have to live up to your new status as the cool aunt ever. Of course, it has to go above and beyond the simple "happy birthday" text — and you wouldn't have it any other way for your special girl. You're all about showing the world how much this little human means to you, which is why you need some pretty stellar Instagram captions for your niece's birthday.
The adorable picture of you two together will only be highlighted by the perfect words used to caption it. Whether you go for something cute, sweet, witty, or funny, your niece will totally love it. Plus, not only is it your niece's birthday and the anniversary of your new "cool aunt" title, it's also the anniversary of the day you two met for the very first time. It is a huge day all around, and you'll be too busy celebrating with your favorite kid to stop and come up with your own Insta caption. Instead, use one of these 20 quotes I've collected just for you, so you can post away and get back to that party.
1. "I hope you know how precious you are to me. You bring light with you wherever you go, and leave everything more beautiful than you found it." — Unknown
2. "Always remember, you are braver than you believe, stronger than you seem, smarter than you think, and twice as beautiful as you'd ever imagined." — Rumi
3. "You know how to dazzle and delight everyone around you. I hope your birthday is as amazing as you are." — Unknown
4. "You may not have my eyes or my smile, but from that very first moment, you had my heart." — Unknown
5. "You are my favorite little person." — Unknown
6. "If I had a star for every time you made me smile, I would be holding the night sky in my hand." — Unknown
7. "If I could give you one thing in life, I would give you the ability to see yourself through my eyes. Only then would you realize how special you are to me." — Unknown
8. "All nieces are brilliant and beautiful... and obviously take after their aunt." — Unknown
9. "May your heart be happy, may your days be bright, may your roads be smooth, may your burdens be light, may you find the dreams, may you touch the stars, may you never forget how special you are." — Unknown
10. "It's your day to sparkle and shine! May your birthday be as dazzling as you are. Enjoy every moment to the fullest." — Unknown
11. "Happy birthday to my wonderful, amazing, and fabulous niece who takes after her Aunt." — Unknown
12. "Well, I love you to everywhere and back a million times, forever." — Unknown
13. "Don't think you're special just because it's your birthday...you're special every day." — Unknown
14. "To have a niece as wonderful as you, makes me one of the lucky few." — Unknown
15. "Strong and brave and sweet and smart, describing her that's just the start. Embrace yourself and watch out world for this amazing little girl." — Unknown
16. "You are my NIECE: naughty, impatient, energetic, cute, and expressive. I love you, Happy Birthday." — Unknown
17. "Happy birthday to a niece who is funny, good looking, smart, and reminds me a lot of myself." — Unknown
18. "You are an angel who made my life more colorful and amazing. It couldn't be better than this." — Unknown
19. "My dearest niece. You may be your mom's daughter, but you are my best friend." — Unknown
20. "Happiness is a niece." — Unknown