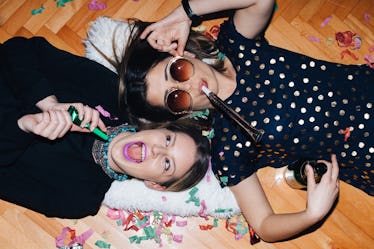 20 Instagram Captions For Your Fave Cousin's Birthday That'll Give Her The Feels
When you have a cousin who doubles as your bestie, you really get the best of both worlds. Cousins are like siblings who are linked by blood, but you're not constantly fighting over clothes, the TV remote, and your parents' attention. Your cousin BFF will stick by your side for the long haul, and you'll experience so many amazing milestones together. When her birthday rolls around, you'll want to make sure she knows just how much you care with a dedicated post shining a beautiful spotlight on her. Once you snap that Instagram-worthy pic, you'll need some perfect Instagram captions for your cousin's birthday.
It's difficult enough picking out a great pic of the two of you to post, because there are far too many gems to choose from. You could go with an adorable pic of you two as kids on your fave beach vacay, or that cute AF selfie you snapped before going out on her birthday. Lucky for you, Instagram allows you to pick multiple pics in one post, but you have to get it right with the best caption. Coming up with the exact words to showcase your feels isn't so easy, since you could honestly write an entire novel on how much you care about your cuz. To ensure your posting goes smoothly, consider using any of these 20 quotes. Your cousin will surely smile when she sees your post, and she'll love it just as much as the birthday cake that'll make an appearance later that day.
1. "We lead such busy lives that we never have enough time to tell each other what needs to be said. I'm glad I have your birthday to tell you; I love you! I'm glad to have you as my cousin." — Unknown
2. "Being related to me is really the only gift you need. Just saying." — Unknown
3. "Happy birthday to a cousin who should have been my twin, but God knew no one family should have this much fabulousness and pizzaz in one household." — Unknown
4. "Cousins by blood, sisters at heart, friends by choice." — Unknown
5. "Happy birthday my wonderful, hilarious, and truly amazing cousin." — Unknown
6. "I smile because you're my cousin. I laugh because there's nothing you can do about it." — Unknown
7. "Cousins are those childhood playmates who grow up to be forever friends." — Unknown
8. "Happy birthday to someone who is smart, gorgeous, funny, and reminds me a lot of myself." — Unknown
9. "Time passes and we may be apart, but cousins always stay close at heart." — Unknown
10. "A cousin is a little bit of childhood that can never be lost." — Marion C. Garretty
11. "Don't tell the others, but you are definitely my coolest cousin. May you have the coolest of birthdays!" — Unknown
12. "Cousins are connected heart to heart, distance and time can't break them apart." — Unknown
13. "Cousins are cool to see, impossible to forget, and true to your heart." — Leo Farno
14. "Cousins by chance, friends by choice." — Unknown
15. "A cousin is a ready-made friend for life." — Unknown
16. "We didn't realize we were making memories, we just knew we were having fun." — Winnie the Pooh
17. "Families are like branches on a tree. We grow in different directions, yet out roots remain as one." — Unknown
18. "You are dearer to me than language has the power of telling." — Unknown
19. "A little bit older, a lot more fabulous." — Unknown
20. "Someone I love was born today." — Unknown