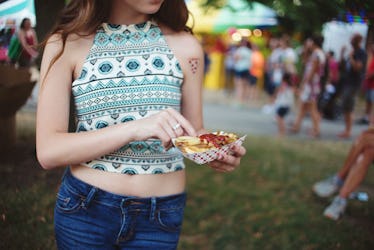 19 Witty Captions For Your Fry Pics To Celebrate National French Fry Day
It's time to hit up your favorite pub or fast food joint to celebrate National French Fry Day. Every year on July 13, this national day gives me all the feels (because fries over guys, am I right?!) This may just be my favorite day of the year — besides my birthday and Halloween, of course. Plus, what better way to distract yourself from the superstitions surrounding Friday the 13th than by treating yourself to some delicious fries (along with a vanilla milkshake and Instagram captions for French fries to accompany)?
As you get ready to feast, feel free to munch on all the crunchy deliciousness with tons of dipping sauces on the side. Just don't forget to show off your mouthwatering snack to the world on your Instagram account. Whether you prefer curly and seasoned, or crispy and shoestring-style, your perfect order of fries awaits. As the Drake lyric goes, "You only live once," so try them all! I'm all for not discriminating against potatoes. The more fries on my plate, the happier I am.
I suggest going on your own local food tour with your squad and hunt down the best fries in your neighborhood, because things are starting sizzle. (Sorry, not sorry.) But of course, with so many aesthetically pleasing, incredibly crispy fries to post, you'll need some caption inspiration, STAT. I've done the research for you (aka, scoured the Internet) for the best and brightest of French-fry themed Instagram captions to honor the special day.
Although the Internet has inspired companies and other individuals to come up with some intriguing concoctions over the years — including a French fry bun and chocolate-covered fries, among many others — National French Fry Day is all about enjoying the classics without all of those extra frills. (But if you want to get fancy AF with your fries, I totally won't judge you.) Let the feasting commence.
Get ready to dig into some fries — but remember, the iPhone camera eats first. #DoItForTheGram. PS: Please save me some fries, while you're at it.
1. "Fries > guys." — Unknown
2. "I'm in shape. Unfortunately, that shape is a potato." — Unknown
3. "All that and a plate of fries." — Unknown
4. "Happier than a seagull with a French fry." — Unknown
5. "Keep your friends close and your fries closer." — Unknown
6. "French fries and vino are my vices." — Meghan Markle
7. "There's no 'we' in fries." — Unknown
8. "French fries. I love them. Some people are chocolate and sweets people. I love French fries. That and caviar." — Cameron Diaz
9. "Whatever, I'm getting cheese fries." — Regina George
10. "Excuse my French (fries)." — Unknown.
11. "Exercise? I thought you said extra fries!" — Unknown
12. "French fries and good vibes." — Unknown
13. "We go together like French fries and ketchup." — Unknown
14. "Show me a person who doesn't like French fries and we'll swap lies." — Joan Lunden
15. "Enjoy Fry Days." — Unknown
16. "When a couch potato is sliced up and then deep fried that is couch French fries." — Demetri Martin
17. "French fries: I have been obsessed with them since I was born. I like big, big steak fries, curly fries, seasoned fries — any kind!" — Corbin Bleu
18. "I like French fries; I like mashed. I love potatoes." — Mary J. Blige
19. "I wish I was a bird so I can just steal other peoples' French fries all day long." — Unknown.
The moral of the story? Whether you opt for extra crispy, shoestring, or steak frites (if you're feeling fancy AF), just remember to Instagram first.