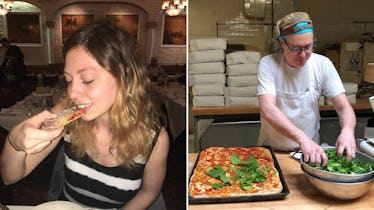 I Took A Food Tour Of My Own City & Fell In Love With My Home All Over Again
I've only lived in New York for about a year now, but I've been in love with the city for as long as I can remember. And like any normal relationship, my infatuation with NYC has had its peaks and valleys. Sometimes it's hard to look past the stale smell of the subway or the $14 price tag on every decent-looking salad, but when I was invited by Marriott Moments to go on a tour of "the true Little Italy of New York City," I knew I had to seize the opportunity. In my opinion, food tours are worth it — not just for the sake of enjoying the mouth-watering eats, but also for the chance to experience a city from an entirely different perspective — even in a city you call home.
If you've never been on a food tour, or you're not totally sure what it even means to go on one, it's a pretty simple concept: A professional tour guide leads you through a neighborhood, but instead of just telling you about the city's history, they invite you to experience everything yourself hands-on as you walk in and out of restaurants, cafes, and delis, learning all about how the food influences the city's culture, and vice versa. And yes, there is a lot of eating involved.
For my first ever food tour, Marriott Moments invited me to the Bronx, aka "the true Little Italy of New York City."
While most of us know Marriott as a hotel chain, the company has recently expanded to launch an experience-based platform called Marriott Moments, a free-to-use portal through which you can book incredible activities like zip-line excursions, cooking classes with master chefs, and yes, food tours, all of which are recommended by actors, athletes, award-winning chefs, and more. Plus, if you're a Marriott Rewards member (which is also free to sign up for, BTW), you can earn and redeem points by booking your activities with your credit card through the Moments platform. No matter where your vacation plans may take you, Marriott Moments is there to help you find and book the experiences you simply can't miss out on.
So despite growing up just a train ride away from New York my entire life, I'd never been to the Bronx at all before going on this tour. But Arthur Avenue Food Tours' Danielle Oteri showed me and the rest of our group everything this borough has to offer, including not just the delicious food, but the visceral culture that continues to breathe life into this Italian-American neighborhood.
For example, Oteri briefly took us into Our Lady of Mount Carmel's Church, a Catholic place of worship that's best known for providing thousands of Italian immigrants with a familiar, welcoming space to practice their faith at the beginning of the 20th century when they first came to the United States. The history behind the walls of that church was palpable, and it gave me chills to listen to the priest speak completely in Italian. It was so beautiful.
As you walk down Arthur Avenue in the Bronx, making your way in and out of delis, bakeries, and cafes, you can't help but feel completely at home everywhere you go. It's not just the food — more specifically, the fresh slices of mozzarella, the bacon-wrapped chicken legs, the flawlessly prepared breadsticks, and the pizza pies with perfect cheese-to-crust ratios — that sticks with you; it's the people who prepare it, and the stories they have to tell.
As my tour group and I stuffed our faces with rainbow cookies and a variety of sliced cheeses and meats, Oteri told us about the background of Arthur Avenue, a neighborhood in the Bronx that only makes up about 10 square blocks total, but contains an endless amount of history. Oteri tells me her own great-grandfather first came to Arthur Avenue in 1918, and in the 1950s, the Academy Award-winning movie Marty was filmed in none other than his own butcher shop, which is now known as Vincent's Meat Market.
While the city was originally home to Italian immigrants, Oteri says you'll now find a melting pot of Albanian, Italian, and Mexican families, as well as Fordham University students, and so much more.
Now, could I have googled most of these facts about the Bronx and Arthur Avenue, or watched videos on YouTube about how to make fresh spinach fettuccine? Of course. But there's a huge difference between learning about a city through your laptop screen, and literally tasting the history for yourself in bite-sized pieces. A food tour doesn't just feed you an overwhelming amount of facts and dates and historical events that you'll never remember after the fact (though they will feed you an overwhelming amount of bread and cheese). It provides you with a totally unique way to learn about a city, and where its people come from, through the universally relatable experience of eating and enjoying food.
"Travel is made up of the places you stay, the activities you do, and the people you meet," Stephanie Linnartz, global chief commercial officer of Marriott International, said in a Marriott Moments press release. In other words, it doesn't really matter where exactly your travel plans may take you. Regardless of where your plane lands, there's bound to be a rich variety of experiences to enjoy, and Marriott Moments wants to help you discover those experiences.
If you're looking to make the most of your upcoming vacation plans, Marriott Moments features an extensive, expert list of recommendations from hotel general managers, chefs, mixologists, and even your favorite celebrities like Lea Michele and world champion freestyle skier Gus Kenworthy, to help you narrow down the best, must-do activities, no matter where your travels may take you. While the Marriott Moments homepage includes a huge variety of activities to choose from right off the bat, you can type in your travel destination in the top search bar to help you find experiences in your area.
Personally, I suggest booking anything with the words "food tour" in it, even if it's in a city you're already familiar with, or even live in. Eating my way through the Bronx didn't just help me discover a part of my city I'd never really known about. It reminded me why I fell in love with New York in the first place: I love the history here, the stories people have to tell, and most importantly, the way New Yorkers tell their stories — especially when there's a giant pizza pie involved.