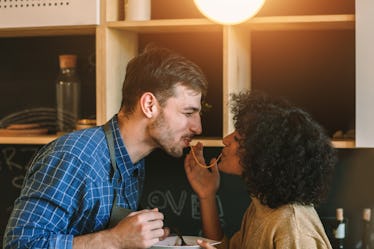 19 Disney Captions For Couples Who Are Living Their Very Own Fairy Tale
vgajic/E+/Getty Images
Once upon a time, there was a cute AF couple who just wanted to take a selfie to remember a special moment. However, when the time came to post that pic on the 'gram, they just could not come up with the perfect caption. If this story hits home, there's no need to fret. Consider posting any of these Disney captions for couples that'll give your pictures a happily ever after vibe on your feed.
There's nothing worse than posting a boring or overplayed caption, so sprinkle a little bit of pixie dust on your Insta with captions from your favorite Disney movies. For example, grab a Sleeping Beauty quote to pair with a throwback picture from a cozy sleepover you and bae had together. Or, consider posting a lyric or line from The Little Mermaid to caption a romantic snap from a past beach vacation. You can even channel Cinderella by posting a pic from a formal dance you and your partner went to, and caption it, "So this is love. So this is what makes life divine."
By using any of these Disney captions for couples, your post will truly be timeless. There are so many classics to choose from, and you are sure to find one that works with the picture you want to post.
1. "All at once everything looks different, now that I see you." — Tangled, "I See the Light"
2. "If you dream a thing more than once, it's sure to come true." — Sleeping Beauty
3. "Let me share this whole new world with you." — Aladdin, "A Whole New World"
4. "So this is love. So this is what makes life divine." — Cinderella, "So This Is Love"
5. "My dream wouldn't be complete without you in it." — The Princess and the Frog
6. "Love is putting someone else's needs before yours." — Frozen
7. "I look at you and I'm home." — Finding Nemo
8. "Love is a song that never ends." — Bambi
9. "People always do crazy things when they're in love." — Hercules
10. "Can you feel the love tonight?" — The Lion King, "Can You Feel the Love Tonight"
11. "It don't take a word, not a single word. Go on and kiss the girl." — The Little Mermaid, "Kiss the Girl"
12. "Love is an open door, with you!" — Frozen, "Love Is an Open Door"
13. "Some people are worth melting for." — Frozen
14. "Listen with your heart." — Pocahontas
15. "It is plain as anyone could see. We're simply meant to be." — The Nightmare Before Christmas
16. "You were my new dream." — Tangled
17. "I made a wish upon a star. I turned around, and there you were." — Bolt
18. "I choose you." — Aladdin
19. "Look at the skies, they have stars in their eyes on this lovely bella notte." — Lady and the Tramp, "Bella Notte"
This article was originally published on