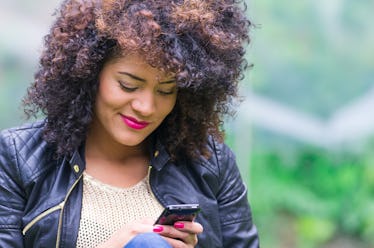 These 18 Spanish Quotes About Love Make Perfect IG Captions
Shutterstock
What is it about love that puts you at a loss for words? Sometimes, it's hard to express just how you feel when you're still on the roller coaster ride of complex emotions. Luckily, many poets, philosophers, and songwriters have been able to capture love in a beautiful, relatable way. Better yet, many of these well-known musings are in Spanish, which happens to be one of the Romance languages. So, next time you're hunting around for a romantic Instagram caption, look no further than these Spanish quotes about love.
They say love conquers all — potentially even language barrier — so, don't be afraid to use a Spanish phrase in your next Instagram caption post. There are lots of different situations in which these swoon-worthy phrases might be fitting for your social media posts, too. Perhaps you need the perfect caption to accompany a candid of your partner, or a cute pic of you two together. On the other hand, maybe you set an intention to find your person this year, and you believe that sharing some romantic phrases will attract that kind of love into your life.
Whether you're eager to flaunt your pride in your Latinx heritage, you simply want to send some heartwarming vibes out into the social media universe, or you know that Spanish is the only language that can fully express your feels about someone at the moment, these quotes should say it all.