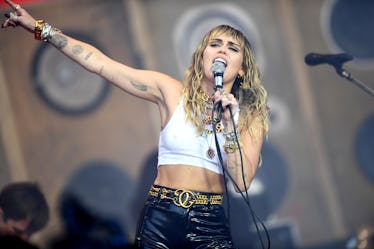 18 Sad Love Songs That'll Help Mend Your Broken Heart
Dave J Hogan/Getty Images Entertainment/Getty Images
Since magic is a fictional concept (Gasp! I know!), I think the closest thing we have to it IRL is music. Music can make us feel better when nothing and no one else seems to be able to. Sad love songs that capture exactly what you're going through can feel like a warm hug that lets you know you're not alone — others have been there, done that, and come out stronger on the other side.
There is science to support the comforting feeling of listening to sad music when you're already sad. Dr. Simon Proctor, a sociologist-music therapist and director of music services for Nordoff Robbins UK, told Nylon there's been "research to suggest that sad music mirrors the feeling of being sad because it is slow, and there is less going on, your mind wanders during it, and you're more likely to be reflective. For some people, that's a really good strategy to allow you to process things… Music has an ability to be a companion, and therefore it is with you in your sadness. It accompanies you, so you're not alone."
Next time you're in your feels, hit play on one of the following sad love songs. Because sometimes, all you need is a good cry to be able to pick yourself up and feel like yourself again.
1. "I Almost Do" by Taylor Swift
And I just wanna tell you, it takes everything in me not to call you / And I wish I could run to you/ And I hope you know that every time I don't, I almost do.
Taylor Swift is the queen of love songs, full stop. If you've ever been through a breakup, you know a T-Swift banger can cure your heartache.
2. "Heartbreak Warfare" by John Mayer
How come the only way to know how high you get me / is to see how far I fall / God only knows how much I'd love you if you let me / But I can't break through at all.
This song is the perfect soundtrack to getting over someone who never made the effort to let you in.
3. "Call Out My Name" by The Weeknd
Guess I was just another pit stop / 'Til you made up your mind / You just wasted my time.
When you're crying over the one who got away, this bop will make you feel like you're not alone.
4. "Stone Cold" by Demi Lovato
God knows I tried to feel / Happy for you / Know that I am, even if I / Can't understand, I'll take the pain / Give me the truth, me and my heart/ We'll make it through / If happy is her, I'm happy for you.
Seeing your ex move on with someone else is one of the hardest parts of a breakup. Lovato proves she gets it with "Stone Cold."
5. "Marvin's Room" by Drake
I'm just sayin', you could do better / Tell me have you heard that lately / I'm just sayin' you could do better / And I'll start hatin', only if you make me.
Comparison is truly the worst. When your ex is moving on with someone new and you can't help but compare yourself to them, listen to "Marvin's Room."
6. "Stay With Me" by Sam Smith
Why am I so emotional / This is not a good look, gain some self-control / And deep down I know this never works / But you can lay with me so it doesn't hurt.
Sam Smith really knows how to strike a nerve, huh? Listen to "Stay With Me" when you're still in burrito-in-bed mode.
7. "So Sick" by Ne-Yo
It's been months, and for some reason I just (can't get over us) / And I'm stronger than this (enough is enough) / No more walkin' round with my head down / I'm so over being blue, cryin' over you.
This throwback jam never gets old. If you know all the words, belt it out in the shower. You'll feel better — trust.
8. "Say Something" by A Great Big World, featuring Christina Aguilera
Anywhere, I would've followed you / Say something, I'm giving up on you / And I will swallow my pride / You're the one that I love / And I'm saying goodbye.
This song is sad sad. Like, you-broke-up-an-hour-ago sad. Main-character-moment sad. Listen at your own risk.
9. "Drive" by Miley Cyrus
You told me that you wanted this / I told you it was all yours/ If you're done with it/ Then what you say forever for? / If forever's out the door / I'll ignore, when you call.
"Forever" might seem daunting, but when you're planning your life with the person you love, it's exciting. Seeing it end can suck big time. Miley's "Drive" is just what you need.
10. "Already Gone" by Kelly Clarkson
And I want you to know / You couldn't have loved me better / But I want you to move on / So, I'm already gone.
When you want the best for your ex after an amicable breakup, "Already Gone" will put those feelings into words the way only Kelly Clarkson can.
11. "Gone" by *NSYNC
Was it something I said to make you turn away / To make you walk out and leave me cold / If I could just find a way to make it so that you were right here.
Another throwback jam, "Gone" is perfect for those nights you can't stop thinking about what went wrong.
12. "One Wish" by Ray J
If I had one wish, we would be best friends / Love would never end, it would just begin / If I had one wish, you would be my boo / Promise to love you, trust me I'll trust you.
If I had one wish… this song would be mandatory listening for every broken-hearted person in the world.
13. "Haunted" by Taylor Swift
Stood there and watched you walk away / From everything we had / But I still mean every word I said to you / He will try to take away my pain / And he just might make me smile / But the whole time I'm wishin' he was you instead.
Another T-Swift classic, "Haunted" is perfect for both a cry and a rage run.
14. "It Will Rain" by Bruno Mars
If you ever leave me baby / Leave some morphine at my door / 'Cause it would take a whole lot of medication / To realize what we used to have / We don't have it anymore.
"It Will Rain" is another main-character-moment song that's perfect for long cry sessions. Bonus points if it's raining.
15. "Just Give Me A Reason" by P!nk featuring Nate Ruess
Just give me a reason, just a little bit's enough / Just a second, we're not broken, just bent / And we can learn to love again.
"We're not broken, just bent, and we can learn to love again" is the perfect thing to remember if you and your partner are going through a rough patch.
16. "Now You Tell Me" by Jordin Sparks
You were nonchalant, strong and unaffected / And you never wanted me to be there / I never saw your heart, that's how close you kept it / So right now I'm so unsure how to care.
Listen to "Now You Tell Me" when you're frustrated over the one who couldn't put their ego aside.
17. "Kiss Tomorrow Goodbye" by Luke Bryan
Girl, rest your head, one more time in my bed / Love me like you loved me when you loved me and you didn't have to try / Let's lay down tonight, and kiss tomorrow goodbye.
Even though this song is basically encouraging you to sleep with your ex one last time, it's the perfect song to listen to when you want to, but you know you shouldn't.
18. "Our Last Summer" by Colin Firth, Pierce Brosnan, Stellan Skarsgård, Amanda Seyfried, and Meryl Streep
I can still recall our last summer / I still see it all / Walks along the Seine, laughing in the rain / Our last summer, memories that remain.
Want nostalgia? "Our Last Summer" will give you enough to last you until, literally, next summer.
Next time you're feeling sad and your best friend's pep talks aren't doing it for you, really listen to one of these. People deal with heartbreak every day and get through it. You can too.
This article was originally published on