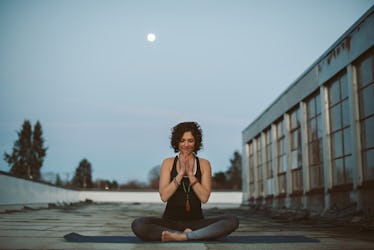 15 Yoga Poses For The Lunar Eclipse To Help You Harness The Power Of The Moon
On Jan. 31, a truly rare and breathtaking lunar eclipse will take place, and the power of the full moon will illuminate the Earth. Major events in the solar system aren't just intriguing to witness with the naked eye; they're the perfect time to roll out your yoga mat and channel that cosmic power into your flow, executing each pose with a heightened sense of passion. Including a few yoga poses for the lunar eclipse into your flow at the end of this month will help you make the most of the crimson-tinted full moon, and fill your peaceful practice with newfound heart space and vibrancy.
What's special about the upcoming total lunar eclipse is that it's both a blue moon and a supermoon. This means that the full moon will be the second one of the month, and the moon will also be as close to the Earth as it can possibly be.
This lunar event is pretty rare, so the energy surrounding all living beings is bound to be heightened and uniquely intense.If you've been feeling a bit uninspired in your usual yoga practice, this lunar eclipse in particular will help you tune into your heart chakra and foster an inner connection between your breath, movement, and the solar system.
Try flowing through these 15 poses when the bold, full moon is shining down on you come Jan. 31.