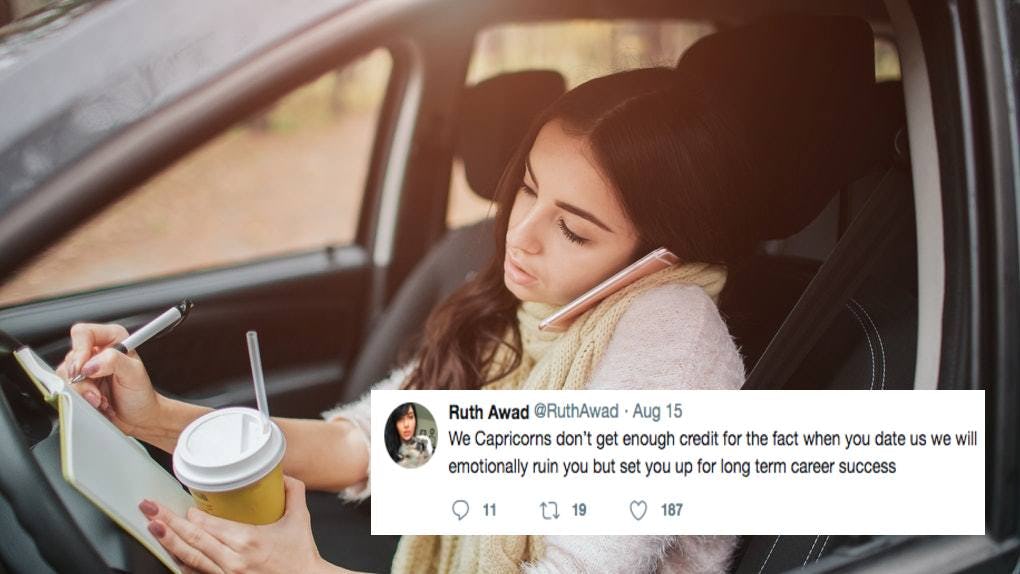 Shutterstock; @RuthAwad/Twitter
15 Tweets About Dating A Capricorn That Prove They're Really The GOAT
If your ideal date is Netflix and chilling, then you probably shouldn't date a Capricorn. Those born under the sign of the goat don't know the meaning of "chill" — how can they possibly relax when there's so much that needs to get done? For Capricorns, all work and no play is their lifestyle of choice, which can make dating one (or even scheduling a date with one) a challenge. People whose birthday falls between Dec. 22 and Jan. 20 tend to be serious, but not humorless, so even they will appreciate these spot-on tweets about dating a Capricorn.
I don't think anyone would mistake a Capricorn for a romantic — TBH, I'm pretty sure it was a Capricorn who first coined the term "dick appointment." But that doesn't mean that Capricorns aren't interested in romance, just as long as their partner loves late nights at the office and hates public displays of affection (or even private ones, really) as much as they do. Although they may have a reputation for being one of the duller zodiac signs, Capricorn simply want to help others work harder and budget better. If you have ever dated a Capricorn, get ready to relate so hard to these hilarious tweets.
They Aren't Quite Open Books
They Might Even Be Considered A Little Robotic
They Tend To Have A One-Track Mind
They're A Bit Morose
They Have No Problem Cutting Someone Out Of Their Life
They Don't Feel The Need To Justify Their Actions
They Prioritize Work Over Everything
They Always Plan Ahead
They're Disciplined AF
They Have High Standards
They Can Be A Touch Tedious
They Meddle More Than They Should
They Rarely Make The Same Mistake Twice
They Enjoy Seeing People Succeed
They Believe In The Power Of Tough Love
Capricorns can be tough, but there's something to be said for a person with an incredible work ethic. They may not work hard to keep people they don't see a future with in their lives, but once they find the right match, they'll work tirelessly to make both that relationship and that partner thrive.
This article was originally published on