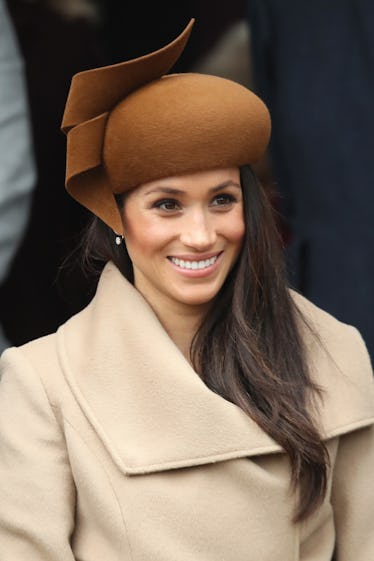 15 Times Meghan Markle's Instagram Proved She's All Of Us
Chris Jackson/Getty Images Entertainment/Getty Images
Hello, and welcome to the latest installment of "Why Meghan Markle Is My Spirit Animal, And Why She Should Be Yours, Too." (I'm still playing around with the title, but I think you guys get the idea.) And if you're like me, you basically yearn to find a way to somehow be friends with Meghan Markle, because she just seems like the freaking coolest. While you might not be able to call her your bestie, you can still feel like she's a friend of yours by following her on social media. And honestly, Meghan Markle's Instagram will have you *almost* believing that you're BFF's because she's just so damn relatable.
I mean, let's just shy away from the fact that she will be a part of the royal family soon enough ever since she became engaged to Prince Harry and made all of our hearts melt, and focus on the fact that aside from that itty-bitty part of her life, she's a totally normal girl. And by "normal," I mean she's actually a really successful actress, starring in the show Suits, and was given the title of global ambassador for World Vision, so please take the word "normal" with a grain of salt.
So, while you can't follow her on Snapchat (she sadly keeps her profile private, only having her stories able to be viewed by friends), you CAN check out her Insta-feed, and you know what? I will take what I can get from Miss Markle because it's more than I deserve.
Markle joined Instagram back in May of 2012, and since then, the world has been #blessed with many gems that were too good not to double tap. Oh, do you like inspirational quotes that speak to your soul? Meghan's got you covered. Do you love artsy photos that actually make you want to get off the couch and do something? Duh, Meghan has plenty to offer. Are pictures of far-away places totally your jam? Well guess what, you're not alone, because it's Meghan's jam, too.
See what I told you? Meghan Markle is my spirit animal, and after you see some of her Instagram posts, she'll undoubtedly be yours as well.
Because she has a lot of amazing posts, we're going to do this the right way and essentially color code the best of the best Instagram uploads, because there are just so many great ones that it's nearly impossible to choose just one or two.
I'm going to preface this with a small and simple "You're welcome," because by the time this post is through, you will feel so close to Meghan Markle that you might actually believe that you'll be a part of the royal wedding (which, spoiler alert, probably won't happen).
Without further adieu, let me present to you the best of the best from Miss Markle's Instagram feed:
Meghan Markle has a serious case of wanderlust.
If you love looking at pictures of beautiful people in beautiful places around the world, then look no further, because Markle's feed is stuffed with drool-worthy destinations.
Here she is saying "hola" to the ocean in Mexico:
And here's a photo she took of the most epic sunset in Ibiza:
Oh, you want to visit Greece? How about you just live vicariously through Meghan:
I mean, why travel around the world when you can just look at photos of Meghan Markle doing it instead?
Meghan Markle's foodie game is on point.
If food is the most important thing in life to you, first, welcome to the club, and second, you're going to salivate over Meghan's Instagram feed.
Seriously, have you ever seen a more beautiful breakfast display?
And photos of her lunch are magazine-worthy, while mine always look blurry and actually unappetizing:
And her photos of dessert put nearly everyone else's to shame:
Meghan Markle has style for days.
When you think of royalty, you think of someone who has a timeless sense of fashion, and man oh man, does Markle deliver.
Can we talk about these shoes? Can we talk about the angle of this shot? Can we talk about how everything IS SO PERFECT?
Here she is absolutely slaying the wide-leg pant:
And here she is looking trés chic with a knockout dress, pair of shades, and, most importantly, a pair of dogs:
Meghan Markle is a workout queen.
If you want fitness inspiration, hop on over to Meghan's Instagram, because this girl clearly has her sh*t together when it comes to exercise.
Yes, this is Meghan Markle practicing yoga, and literally nothing compares to her awesome-ness:
Pilates is also her thing, and – surprise, surprise – she rocks it:
Meghan Markle inspires everyone to live their best life.
There is literally nothing more relatable than a hopeful quote with a ~unique~ font or background. I guarantee that each and every one of you have a quote like this posted to your social media, because, hello, WE ARE ALL MEGHAN MARKLE AND MEGHAN MARKLE IS ALL OF US:
Yes. Just yes.
Inspiring. Amazing. 10 out of 10.
What's that? Oh, right. My new mantra.
And now, for my personal favorite:
Don't mind if I do!
Thank you, Meghan Markle, for being social media royalty. And, you know, actual royalty.