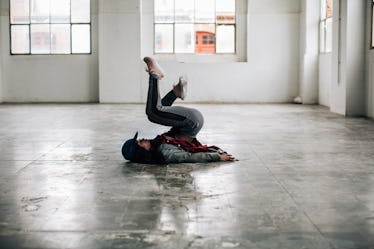 These Fitness Hacks Are So Lazy, You'll Forget That You're Actually Working Out
I don't know about you guys, but my life is freaking hectic. As much as I want to carve out a full hour at the gym every day, it's just not realistic most of the time. And even when my schedule isn't super busy, it can still be tedious to summon the motivation to actually go to the gym. We could all benefit from having a few lazy fitness hacks in our back pockets, because while we may want all the benefits that come with a regular workout routine, it's not always that simple or attainable.
Let's be real: Staying active and crushing all of your fitness goals can be intimidating AF, especially if you're setting yourself up with unrealistic expectations that will ultimately lead to disappointment and discouragement. But if you start small, and add some low-key mindful movement into your life here and there, eventually, you'll begin to crave the feeling of being active more and more, and working out will begin to feel second-nature.
Try implementing these 15 laid-back fitness hacks into your everyday routine to make sure mindful movement is always a part of your life, even if you don't have time to make it to the gym — or, you know, even if you just don't feel like it.