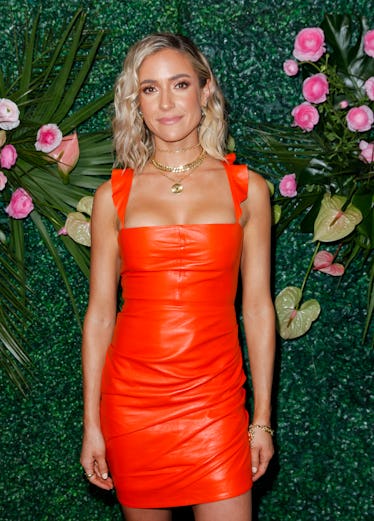 These 15 Kristin Cavallari Quotes Are Perfect For Your Fiercest Instagrams
Tibrina Hobson/Getty Images Entertainment/Getty Images
Kristin Cavallari has always had a way with words. Whether you watched her on Laguna Beach or The Hills (or both), her larger-than-life personality and never-ending drama made her a reality TV icon. More recently, she's continued to flaunt her girl-boss persona on her E! reality show Very Cavallari. Whether she was in the midst of a feud, or just dishing out some girl advice to friends, she always was quick-witted and knew just what to say. Which is probably why these unforgettable Kristin Cavallari quotes are perfect for Instagram captions.
Between all three of her shows, Cavallari spent nine years of her life on reality television. All of this made for some pretty epic TV, and MTV captured some of Cavallari's craziest moment's from her teenage years and early 20s. Growing up in the spotlight can't be easy, and looking back, Cavallari admits it's hard to re-watch some old scenes. In July 2018, she took a walk down memory lane with Cosmo, re-watching all of her best scenes from The Hills and Laguna Beach. "I don't remember being that mean," she said of the video clips. "I'm so glad that isn't my life anymore."
She may not be proud of every feud she's been a part of, but she's definitely held her own every time. When it comes to iconic TV quotes, Cavallari has some of the fiercest out there, and these are all the best ones you'll want to keep handy for your own fierce moments on the 'Gram.
1. "Is it gonna be like this?"
2. "What happens in Cabo, stays in Cabo."
3. "The one guy that you can't get, you'll always have a thing for."
4. "Drama, drama, drama, drama."
5. "At least I'm honest and I'm not trying to be something I'm not."
6. "This week sucks, I hate everybody."
8. "Just say you're sorry."
9. "Quit getting in everyone's business."
10. "Sometimes, in order for things to get better, they have to end, even if it's momentarily."
11. "I say what's on my mind. I go after what I want."
12. "He can be a little sh*t sometimes but he makes me laugh."
13. "I own a lot of shoes, I'm not sure how many."
14. "Every girl needs enough money that she could get up and walk away if she needed to."
15. "I'm with you because I love you, not because I need you."