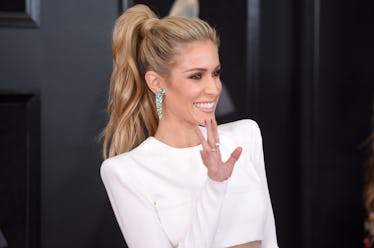 8 Kristin Cavallari Quotes That Will Get You So Excited For Her New Show
Jamie McCarthy/Getty Images Entertainment/Getty Images
If you grew up in the early 200s, there was literally nothing better than Laguna Beach and The Hills. The drama, the clothes, the houses, it was all so ~real~ right? JK, obviously it wasn't, but that didn't stop it from being amazing television. And now that the villain of Laguna and The Hills is getting her own reality show, it's time to revisit the best Kristin Cavallari quotes of all time. Where to even begin?
Kristin made it easy for viewers to hate her — you don't mess with Lauren Conrad (remember when she went by LC?) or the senior girls! — but she also made some hilarious one-liners along the way, which definitely helped her to become more likable. At the very least, she was always brutally honest: no matter whether she was dishing out a savage insult to a friend or yelling at guys in the bar, you know where she stood. Someone who tells it like it is is a necessary staple for any reality TV show, and Kristin was more than happy to accept the job. Even on The Hills, which she joined in Season 5 to replace Lauren, Kristin was a shark who basically existed solely to start drama. But who really cares, because these Kristin quotes are so amazing that they're basically canon.
1. "What Happens In Cabo Stays In Cabo"
Ah, Laguna was a simpler time. Remember when the crew headed down to Cabo for a weekend of drunkenness that probably inspired a thousand spring break trips? Yeah, of course you do, because when you bring an MTV camera crew with you, what happens in Cabo definitely does not stay in Cabo. Kristin made out with Sam right in front of her on-again-off-again boyfriend Stephen Colletti, and Stephen freaked out, prompting another great Kristin quote.
2. "Don't Try To Call Me!"
After Stephen followed Kristin around the Cabo bar yelling "Slut!" at her (which, in hindsight was not cool), she did not mess around. "Don't try to call me!" she yelled, which in 2004 was like the biggest diss ever.
3. "My Car Is Dunzo!"
In the third episode of Laguna Beach, Kristin's car starts smoking and she freaks out. After worrying that the car is going to explode, Kristin says, "My car is dunzo," and pounds on the wheel. Is there anything more to say? Iconic.
4. "I Have No Sympathy For You Because You Let It Happen To Yourself"
When Jessica was dating Jason Whaler (who Lauren later dated and famously skipped out on Paris for), Kristin wasn't afraid to be honest with Jessica about the relationship. Kristin constantly told Jessica that Jason was cheating on her, and when Jessica finally learned the truth — he was, duh — Kristin gave her a harsh dose of reality.
5. "Jessica, He's Cheating On You! Take It From Someone Who Used To Cheat On Her Boyfriend. Those Are Signs Of Him Cheating!"
Kristin was definitely not afraid of honesty — even about herself.
6. "I'm Sorry That I Walked Up Here And Was Saying Hi To My Friends And You Guys Came At Me Like F***ing Piranhas"
Once Kristin was on The Hills, being the new cast member didn't stop her from starting her fair share of drama. At a party hosted by Spencer and Heidi, she immediately got into a confrontation with Audrina and Stephanie over Justin Bobby (throooowback).
7. "This Week Sucks, I'm Hate Everybody"
This is definitely one of Kristin's most #relatable quotes. Use it when you're just totally over everyone and, well, your week totally sucks.
8. "People May Say I'm A Bitch But At Least I'm Honest And I'm Not Trying To Be Something That I'm Not"
How could we not end with this one? If this doesn't sum up Kristin in one amazing quote, I don't know what does.
If I know my girl Kristin (and I think I do), her new reality show will be filled with plenty more amazing quotes. And of course, a healthy dose of drama.