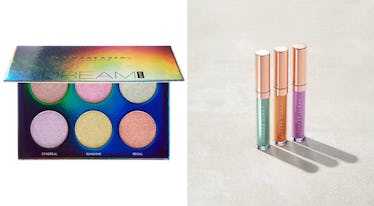 15 Brand New Beauty Products You Can Get Right Now For Under $50
Anastasia Beverly Hills // Fenty Beauty
All right, so if you're anything like me, you're probably always on a budget, no matter what your bank account is looking like. That said, I have to admit, I'm pretty cheap when it comes to most things. But with skin and makeup products, I'll usually make an exception — within reason, of course. So these new beauty products under $50 are perfect for someone like me, who enjoys quality, but also has a thing for pinching pennies.
All of the below products can be found either at Ulta, Sephora, or on each brand's website, so you'll have the option to either shop online or visit the store in-person to pick up your faves from the list below. There's also a good mix of everything from eye products to complexion and lip products to numerous skincare products to meet a variety of needs, no matter your skin type. So before you head into your next shopping spree without a plan in mind, peruse these new releases to ensure you're staying on top of all the trends.
Happy shopping!
For Skin To Die For
While you should be wearing sunscreen year-round, with summer officially here, adding SPF to your skincare routine (if you haven't already) is crucial. Peter Thomas Roth's latest addition to its Skin To Die For line will give you just that. Plus, this CC cream's formula contains anti-aging nourishment with THD ascorbate (50 times more powerful than vitamin C), which will even out your skin tone, hyaluronic acid for hydration, vitamin E, and more. This formula will generally just keep your skin looking fresh, smoother, and brighter all summer long.
Lust-Worthy Lips
Legendary makeup artist Pat McGrath rarely disappoints. So it's almost certain that her new Lust lip glosses are an absolute dream. With 14 shiny shades to choose from and a formula made with an "exquisite blend" of oils, your lips will be soft, supple, and pop with color. But Mother warns that this product is "bound to elicit softcore seduction as unforgettable as the searing memories, passion and pleasure of first love." Rawr.
All That Glitters Is Gold
If you've hopped on the glitter beauty bandwagon (it's fine, we all have at this point), then you should definitely check out these gorgeous new liquid eyeshadows by Stila. In this set, you'll get the "Rose Gold Retro," "Kitten Karma," and "Smoldering Satin" shades all for $25 — such a great steal! Plus, since these are liquid instead of a powder, you'll be sure to get a smooth, super-pigmented finish, all without having to wash your brushes later.
Those Summer Nights
Rihanna's Fenty Beauty line has taken over the cosmetics world by storm. The products just keep getting better and better, and with a 5-star rating on Sephora's website, and over 112 reviews, it seems as though the masses agree. This Lip Luminizer Trio is offered in two different sets. The first, Summer Daze, comes with the lip gloss shades "Single," "Bilingual," and "Ready to Mingle," while the Summer Nights trio offers "Snake Skin," "Mermaid Thighs," and "Vaycray." Both boast a gorgeous and smooth shimmer finish.
Fairy Dust Is A Must
Offering 10 eyeshadows and one highlighter in a variety of shades, from rose to plum to neutral, Tarte's Love, Trust & Fairy Dust Eye & Cheek Palette is a must-have for your beauty bin. It's also made with Amazonian clay for long-lasting wear and lightly scented with natural vanilla extract. As with all Tarte products, this one's cruelty-free, so you can feel good about your purchase as well.
Oh, Baby
OK, NARS' Orgasm blush is a knockout on its own. But now, the shade is also available as a lip balm. (No, you're not dreaming.) With a formula made from the brand's Monoï Hydrating Complex and a blend of antioxidants, your lips will be protected, feel smooth, and infused with long-lasting hydration. It's also fragrance and alcohol-free, so it's suitable for those even with the most sensitive skin.
Pinch Me, I'm Dreaming
If you can't leave the house without applying some highlighter (like me), then the Anastasia Beverly Hills Dream Glow Kit will be a literal dream for you. This collection of six full-spectrum highlighters offers iridescent and metallic finishes. Choose from "Ethereal" (lavender and blue duo chrome), "Sunshine" (metallic gold with hints of lavender), "Unicorn" (pink and lavender sparkle), "Wish" (pearl and violet shimmer), "Regal" (golden pink shimmer with a pop of pink, gold, and blue sparkle), and "Magic" (icy base with mix of red, gold, pink, and blue sparkles) to create your perfect glow.
Smoother Than Butter
Dubbed by Elite Daily's own Sophie Wirt as her "ride or die lip balm," Kiehl's Buttermask Intense Repair Lip Treatment is exactly what you'll need to get your lips ready for summer. This overnight mask is infused with coconut oil and mango butter to "repair the lip's moisture barrier." By the morning, you should be left with soft and extremely hydrated lips, ready for you to apply your new favorite lipstick before you head out the door.
Bye Bye, Blackheads
Blackheads are annoying, and sometimes, they can be really, really hard to get rid of, no matter how much you exfoliate. Thankfully, Clinique's new Self-Heating Blackhead Extractor is great for all skin types. And after using it for about six weeks, the brand claims you'll notice a 93 percent reduction in blackheads. To use, simply squeeze out a pea-sized amount of the formula onto your finger tip. Then, apply a thin layer to the nose or T-zone. Dip the applicator tip in water, and then, using a circular motion, use the tip to massage your nose. Finally, rinse off, and you're done!
Wake Up And Smell The Roses
By now, you've probably heard just about everyone talking about the benefits of using a face roller. But if you have yet to try one for yourself, this just may be the day. Herbivore's Rose Quartz version of the popular product offers a "lymphatic massage," which will help to get rid of toxins, improve blood circulation to the face, and also reduce puffiness. The brand also recommends that if you want "extra healing," place the stone in the fridge before using.
Two Is Better Than One
Just when you thought you've spent way too much money on Fenty Beauty products, Rihanna releases a new set that you just have to squeeze into your budget. And her new Killawatt Foil Freestyle Highlighter Duos are no exception. These are perfect for anyone who's looking for a more intense highlight and not afraid to have some fun with some bolder colors, just in time for summer.
Marc Jacobs Beauty's Enamored Hydrating Lip Gloss Stick is like having a gloss and a balm in one. The sheer gloss comes in seven shades to give you a hint of color, while still giving you all the nourishment your lips need with a vitamin-rich formula, containing kahai oil and a fresh mint scent. You can wear the product alone for a subtle look, or layer it on top of your favorite lipstick to create a glossy, bold finish.
Glow-Up Time
If you've ever dreamed of being backstage at a Dior show, this palette, which contains buildable shades and is made with all skin tones in mind, will give you the look of one of the luxury designer's runway models. The palette includes two highlighters in white and gold, along with two blush options — one in a rosy shade and the other in bronze for the perfect finish.
No Crease, No Problem
Anyone who wears concealer regularly probably isn't a fan of the creasing that often comes along with so many types of the product. Thankfully, Tarte offers a formula to get rid of that problem all together. Made with maracuja oil and offered in 30 shades, this concealer is rich in fatty acids and vitamin C, which helps to hydrate the skin, while also smoothing and rejuvenating.
Don't Worry, Be Happy
Benefit Cosmetics' new Hello Happy foundation invites you to "put on your happiest face" by using their new lightweight formula. This foundation promises to mask imperfections with its light-to-medium coverage, all while boasting a makeup-free appearance. Currently, this line only comes in 12 shades, but I'm hopeful that the brand will increase the shade range as time goes on.