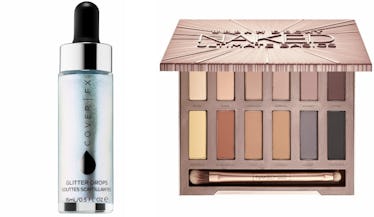 Sephora & Ulta Are Having Amazing Sales Right Now & We Found The Best Deals For You
If you've been scouring the internet for the best discounts out there, save your fingers some work and head straight to Ulta and Sephora's sales. While they're not necessarily seasonally-themed, you'd think each mega beauty retailer was having an end-of-spring blowout based on the sheer awesomeness of the products they've slashes prices on. From palettes to lip tints to foundation and more, the sheer volume of items on sale is staggering, not to mention the quality.
The best thing about shopping both Sephora and Ulta's sales is that they each offer pretty different things. Slight product overlap does occur but for the most part each retailer's discount section has pretty different offerings. If you're in need of haircare products, then Ulta might be where you want to head. If you're looking for a huge selection of makeup to choose from, Sephora's your pick. If you simply want to see the best offerings from both, then scroll down. Because you shouldn't discriminate by product type when excellent deals are involved, am I right? I picked out eight of the best items from both sales that span an array of categories and will be incredibly hard for you to resist. I promise.
Solid Foundation
Tarte's Amazonian Clay line is a fan favorite for a reason. It's rich in vitamin A and helps restore balance to your skin. This vegan foundation boasts a natural matte finish and is oil free, meaning it won't clog your pores or sink into caky lines. It also provides SPF 15 coverage—it's everything you could want in one little tube.
By The Dozen
Urban Decay palettes are kind of like the golden children of beauty products, in my opinion. So anytime one goes on sale it's a big deal. This Naked Ultimate Basics palette features twelve matte eyeshadows that are exclusive to the palette and blend flawlessly, making smokey eyes and velvety effects easier than ever to achieve.
Wait For The Drop
Made of an ultra-concentrated sparkly formula, these blinding liquid glitters can be used as highlighters, eyeshadows, and more. Wear them alone over or under makeup or mix it in with one of your favorite products to give it an otherworldly sheen. Perfect for the avid festival goer.
Kiss, Kiss
When it comes to lip color, I wear matte products pretty much exclusively, with most of them being by MAC. This Retro Matte Liquid Lipcolor is a favorite of mine for its truly invincible wear (you can seriously eat a bowl of pasta with this on and leave dinner looking exactly as you came into it) and liquid-suede finish. Although only a few shades are on sale, they're good ones—if you're in the market for a new brown or nude hue, check this sale out.
Full Of Secrets
Gretchen Wieners would have definitely used this product had it been around in her heyday. Big Sexy Hair Powder Play Volumizing Texturizing Powder has a grandiose name to match its grandiose effects on your hair. It'll help your locks achieve new voluminous heights and will also add some awesome texture. It's colorless, odorless, and works on any hair color. Dolly Parton, step aside.
Magic Wands
Four liquid lipsticks for $15?! That is a darn STEAL, especially when they're by Bite Beauty, a company known for using only food-grade ingredients. These lip colors boast a creamy wear, high-pigment color, and a satiny finish and come in Demi-Glace, Flambe, Braised, and Whip. No matter where you're headed, there'll be a shade to match.
Award-Winning
If a product received a Best of Beauty award from Allure, you know it's good. This weightless, tinted loose powder will help instantly brighten your under eye area without looking caked on.
Shimmer and Shine
Another absolute steal, this palette, which features 21 highlighter and eyeshadow shades, is less than $15. Insane! Featuring a mix of matte and metallic shadows as well as some sheen queen highlighters, it's all you'll need to create a gorgeous look.