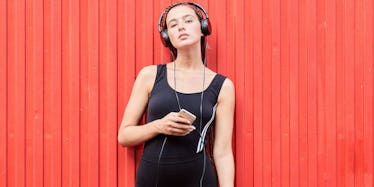 All The Songs You'll Be Playing On Repeat In Your 2019 Workout Playlist
2018 has been many (often cringeworthy) things, but one admittedly incredible aspect of the past year has been the music. I mean, if you haven't been keeping up with all the fire tunes that have dropped throughout 2018, I'm going to assume that you've been living under a rock (which is cool, but where was my invite?). But seriously, what I'm trying to say here is that, if the last 365 days have brought us anything positive, it has to be these workout songs that are perfect for your 2019 playlist.
You might think it's Khalid's smooth-as-butter voice or Ariana Grande's ability to serenade you with a single chilling note that's helping you crush your workouts, and while all of that may indeed be true, there's actually legit science to back up the fact that music can help improve your fitness routine. For instance, a 2013 study published in the scientific journal PLOS One revealed that your favorite beats can actually affect your walking speed without you even realizing it. What's more, in another study, published in the Scandinavian Journal of Medicine & Science in Sports in 2010, participants "not only worked harder with faster music" during a cycling workout, the research explains, "but also chose to do so and enjoyed the music more when it was played at a faster tempo."
So, what are you waiting for? Pull out your phone and add these 14 exceptional songs to your 2019 workout playlist. Whether you're rolling out your mat for a casual yoga flow or hitting the gym for an intense workout, these songs will not disappoint.