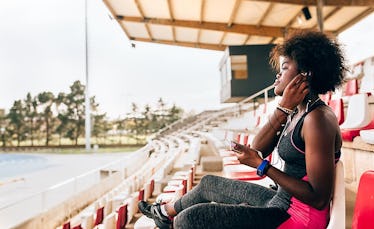 The Top Workout Songs On Spotify Will Have You Dancing Your Freaking Ass Off
A good workout playlist can make all the difference between successfully running seven miles, and giving up after a minute of jogging. It's the difference between an enjoyable spin class and an hour in hell; the difference between feeling like Serena Williams, or like that big creepy blob from Star Wars. Luckily for us, Spotify's top workout songs are here to take your gym playlist to the next level.
Spotify's top global workout songs are filled with a combination of stunners, including some old classics, and a few newbies, too. In the United States, the top workout song is Post Malone's "Rockstar," which was coincidentally the most streamed song on New Year's Eve. Apparently, a lot of people treat the last night of the year like a killer cardio session — go figure.
Good music can make or break your workout — literally. When we listen to music, our brains release dopamine, which makes us feel good, rather than bored or overwhelmed by all the movement and sweating. Plus, music is the perfect distraction for that super tough workout you're looking to conquer in the new year. For your healthiest, happiest workout mentality coming into the new year, here are the top 10 global workout songs on Spotify from 2017.