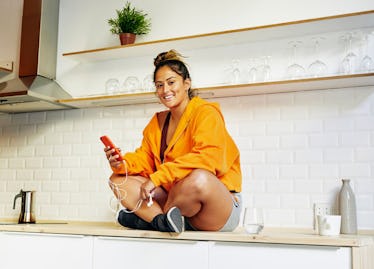 Fitness Experts Reveal How To Make HIIT Workouts More Fun If You Low-Key Loathe Them
Sometimes the things that are best for you in life also happen to be the things that are the most tedious to endure. That's kind of how I feel about doing HIIT workouts. While they make me feel great after the fact, the whole "during" part can inspire me to wonder why I would ever, ever choose to do such a thing to myself. So learning how to make HIIT workouts more fun has definitely become a necessary skill for me. Because if it isn't at least kind of a good time, what's the point, you know?
And listen, guys, the benefits of HIIT are no joke. But the real positive is that you can reap the general benefits of exercise in a shorter amount of time than your usual gym sesh. In fact, according to new research from the University of Copenhagen, there's a way to optimize your bursts during a HIIT workout to make the whole thing go by even faster, without completely exhausting yourself. The study, published in The Journal of Physiology, involved 12 "endurance-trained" men, who all participated in three different cycling workouts, done on different days. Before and after each cycling workout, researchers took samples of their blood and muscles to document how the workouts affected their bodies.
The first workout, according to Mindbodygreen, was done at a moderate, consistent pace for about 50 minutes. During the second workout, the cyclists did five second interval bursts on their bikes, with 30 second rests in between, repeated 18 times. The third workout, which researchers ultimately found to be most effective, involved 20 second bursts of cycling with a whole two minutes of recovery in between, done only six times. And look, as much as you might loathe HIIT workouts, wouldn't you say that a total of six 20 second bursts of exercise — with two minutes of rest in between each burst, no less — sounds like it's pretty doable? Come on, girl.
But if you're still feeling kind of stubborn about these workouts, don't worry — I spoke with a few experts to learn how to make these bad boys a little more fun. Here's what they had to say.