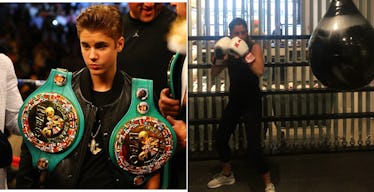 I Tried Justin Bieber's Favorite Boxing Class & Everyone Should Get Ready To Rumble
Getty/Stephanie Ironson
You've been there before: You're scrolling through your Instagram feed when you see your favorite celeb post about their favorite new product — a face serum, vitamins that will make your skin brighter, or a specialty food service. You can't help but want to be like the stars, but are the products worth it? In Elite Daily's new series, I Tried, we put it all to the test. We're trying those products as well as celebrities' health and wellness tips, recipes, and life hacks. We'll do the leg work and tell you what living like your fave star is really like.
I have a fairly simple motto I like to live by: If it's good enough for Justin Bieber, it's good enough for me. As an Entertainment Editor, there aren't many things celebrities do that I don't know about. So when I saw Justin Bieber was attending Rumble Boxing classes in New York City, I threw on a pair of boxing gloves (with the gusto and determination of someone who has worn boxing gloves before) and signed up for my first class.
I always like trying new workout classes in New York City; my preferences are ever-changing and switching it up keeps me consistently motivated to exercise. Although Bieber peaked my interest in Rumble, after reading the studio's description, I was more than sold:
The boxing-inspired group fitness class is a 45-minute, 10 round, full-body strength training and conditioning workout crafted around specially designed water-filled, teardrop-style punching bags. The music is Modern Classics that blend relevant music in hip-hop and house with timeless classics (think Biggie and The Fugees) customized with mash-ups and remixes that are specific to Rumble.
As soon as I enter Rumble's boxing studio, it's clear that this is not your average workout class. The white walls are decorated with red and black boxing-inspired pop art of Tupac, Brad Pitt, and Sylvester Stallone, and the lockers are lined with iconic black-and-white photos of everyone from Biggie Smalls to Cindy Crawford. My inner pop-culture junkie immediately goes into overdrive.
I meet with Rumble Instructor Kendall Wood who walks me through the six fundamental boxing punches – jab, cross, front uppercut, back uppercut, front hook, back hook – and further explains the structure of the class.
"The Rumble class is unlike any other workout you've done before because we combine the elements of fitness and pop culture to keep the class both challenging and entertaining. You're learning to box; it's a new skillset for most, and for that reason, it's a welcome challenge. To learn the skillset of boxing while listening to beat-driven music that's curated specific to the class is what sets us apart. The studio has the makings of a nightclub, a trainer with a dominating stage presence leading the way, and energy that can't be matched anywhere else."
Rumble's "nightclub" aspect is really what sets it apart. With black lights, strobe lights, and remixes that you would hear at 2 a.m. at any hot spot, the class feels less like a grueling workout and more like a night out – minus the late-night pizza and morning-after feelings of regret.
The music and the studio's lights are perfectly timed with the workout, so the second you feel like you're losing steam, flashing lights take over the room and a high-energy remix of Mr. Brightside manages to bring you back to life.
While I have a one-track Bieber mind, he's not the only celebrity who's taken a liking to Rumble's unique class structure. Bieber's ex-girlfriend Selena Gomez, Beiber's current fiancé Hailey Baldwin (Hailey, if you're reading this, can I be a bridesmaid?), Bieber's manager Scooter Braun, Kendall Jenner, and David and Brooklyn Beckham have all taken a whack at the Rumble bags.
I ask Kendall why she thinks celebrities are so drawn to it. She explains, "I think the biggest attraction to Rumble is not only the one-of-a-kind program but also the sense of community you feel when you walk through the door. Rumble is a safe haven; it's a judgment-free zone, and we are your support system. Every individual is welcome here. Whatever is going on outside those doors is left outside those doors the minute you walk in, and that's a huge draw for most if not all of our clients."
Although I'm the type of person who rolls my eyes when people go on and on about the "high" they get from a workout, there's definitely something to be said for a class that leaves you dripping in sweat and emotionally satisfied.
I'm a lover not a fighter, but the combination of punching out daily stress, getting a full-body workout, and feeling the slightest presence of Justin Bieber left me fully addicted to Rumble Boxing.
Rumble currently has three locations in NYC (Noho, Flatiron, and Upper East Side) and recently opened its first Los Angeles location in West Hollywood.