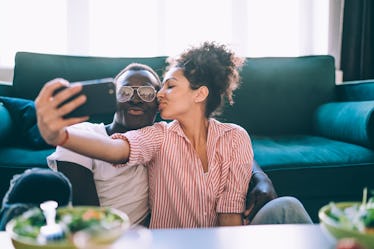 14 Adorable Instagram Photo Ideas For At-Home Date Nights 
Shutterstock
Without a doubt, 2020 will go down as the year of the at-home date night — and luckily, lots of couples have begun to appreciate the benefits of these low-key hangs. Sure, staying in may force you and your boo to get a little more creative, but you also get to skip the lines, crowds, and overpriced drinks. Just because you're not heading out for the evening doesn't mean you won't have lots of photo ops, either. In fact, there are so many Instagram photo ideas for at-home date nights that'll brighten up your feed.
Aside from QT with your cutie, of course, one of the perks of date night is getting some high-quality Instagram content. Maybe you're the kind of person who likes to share a quick selfie of you and your SO all dressed up, or maybe you get a thrill from documenting the experiences and adventures themselves. Either way, sharing some moments from your date isn't just about proving you're total #couplegoals — it's also about giving you and your boo something sweet to look back on months or years down the line. And I'd venture to guess your at-home bonding time is just as special — if not more — as those extravagant nights out.
So, next time you and your main squeeze are staying in, grab your camera and capture one of the following shots to give your feed an instant sprinkle of romance — #nocaptionneeded.