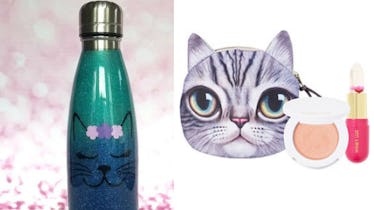 14 Absolutely Purrfect Gifts For The Cat Lover In Your Life This Christmas
Cats are the best. Sure, they're sassy and independent, but that's why I love them so much. They do their own thing — but at the end of the day, they are loyal companions who will cuddle up close and make you laugh. As a certified cat lover, I can also tell you that every item I see that has a cat on it, I need to have. To be honest, I scope out gifts for cat lovers for fun, so if you're struggling trying to find the perfect holiday gift for your roomie or sibling who loves cats, look no further than this list.
Cats are adorable and hilarious, and the whole world knows it. If your bestie needs new PJs for Christmas, you can find a cute pair with cats on it. How about a whimsy coffee mug for her kitchen? You bet there are a ton of cat-themed coffee mugs for you to choose from.
Just like how your cat will sit wherever they please (like your laptop when you're trying to get work done), you can find a cat on anything. Though, if you still need a little help looking for a gift for that cat-loving person in your life, here are 14 things that are complete and utter purr-fection.