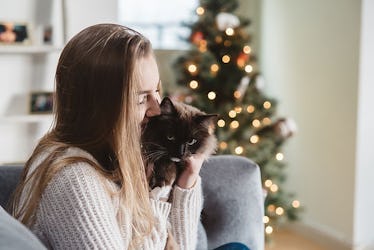 11 Best Gifts For Your Cat-Obsessed Friend That Are Positively Purrfect
It's that time of year again to celebrate a very meow-y Christmas. That's right, we're talking about the kind of Christmas that would get two paws up in approval from our feline friends. If you happen to have a friend on your Christmas list who is obsessed with cats, you know you want to get her something that is absolutely purrfect. Cats are everywhere, but you want to make sure your gift is something your friend will paws-itively love, which is why we've assembled the best gifts for your cat-obsessed friend that you can peruse to find the perfect pick.
You can find a cat logo on pretty much anything you could ever want, so it's all about finding something you know your friend will love to receive. The cats are just an added bonus, and we're here for them.
We're sure you'll find just the right gift for your bestie among these 11 Christmas present ideas. They range from gifts for the home, loungewear, and just for fun. There are also gift ideas for any budget, so you can find whatever fits your wallet's needs. It's time to start shopping and get your claws on something you'll be proud to wrap up, because we're feline festive and it's the most wonderful time fur Christmas.