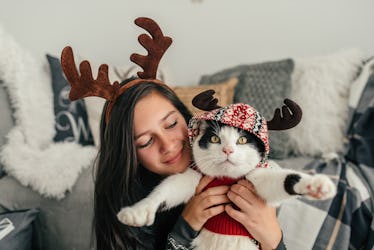 8 Christmas Gifts For Your Cat That Are Also Low-Key Gifts For You, You Shameless Cat Lady
A wise woman once told me the smart way to gift around the holidays is to always buy people presents you can borrow for yourself. Sure, this rule of thumb is pretty genius in terms of Taylor Swift's new album for your bestie or bae's new Nike sweats, but gifting for a loved one is still gifting with no guarantee you'll reap what you sow. When you splurge on Christmas gifts for your cat, dog, or any other fur baby you foster, however, the joy of giving is synonymous to the joy of receiving.
I had a doggy diva when I was growing up, so until my then-fiancé brought home a baby tabby cat, I never understood that #catlady life. Fast forward two years later, and now I'm making an entire Christmas wishlist for my kitty. Obviously I have her best interest in mind, because who doesn't want their fur baby to have the best Christmas experience ever? But TBH, the level of spoiling (and spending) is getting a little out of control — almost to the point where I'm not all that confident I'm buying her stuff because she'll actually enjoy it, or for the fact that I want my cat's life to take after a Pinterest board.
Does your cat really need organic catnip stuffed in fleece toys shaped like tacos? No, but your Instagram definitely does. Spoiling your cat means indirectly spoiling yourself, and these gift suggestions listed below are ideal for gifting your furry feline something you, too, can get use (or a laugh) from.