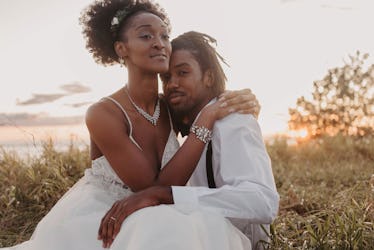 14 Brides Reveal The Cost Of Their Biggest Wedding Splurge & Your Jaw Will Drop
When it comes to coming up with a wedding budget, the key question any couple has to ask themselves is what you can skimp on, and what's worth splurging on. If you can scale back on the aspects that are less important to you, then your biggest wedding splurge will feel justifiable. Because it's often those special details that stand out when you're reminiscing about your big day.
Choosing what's worth breaking your budget for is truly a personal choice. According to The Knot Wedding Attire Study, brides spent an average of $1,631 on their wedding gowns in 2018, which is an increase from $1,509 in 2017. This surge may be attributable to the fact that 11% of brides opted for more than one look on their wedding day — for example, a jumpsuit to change into for the reception. The Knot's study also revealed that one in four couples hired custom guest entertainment for their 2018 reception, including innovative food and drink stations (like DIY margarita and cigar-rolling bars) and interactive booths with poets and tattoo artists. Basically, brides and grooms are going all out in a variety of ways.
Still, couples' priorities for their spending can differ significantly. If you're a beauty junkie, then maybe you'll want to spend more on professional airbrushed makeup for you and your entire bridal squad to look #flawless. Or, if you and your boo are total foodies, then you may end up paying extra for a decadent charcuterie board and dessert cart.
Curious about what elements people are going all out on? Here's what a handful of brides spent on their biggest extravagance.