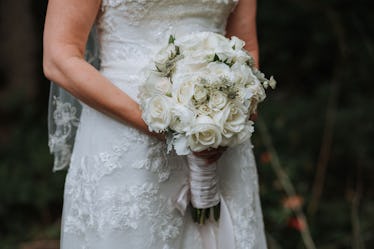 12 Brides Reveal The Cost Of Their Wedding Dress, & It Varies So Much
When it comes to tying the knot, finding the perfect wedding dress can be a beyond-stressful decision. And if you've seen even one episode of Say Yes To The Dress, you'll know that having to budget for such a special occasion can bring up a ton of emotions. So, how much does a wedding dress cost? Well, the honest answer is, however much you're willing to spend. There's no right or wrong amount to invest in wedding attire because spending habits are extremely relative. That's why, according to Sarah Wexler of Brides, it's important to set a firm and realistic budget from the get-go.
"Yes, it's uncomfortable to talk numbers, but it will save you from heartache later on," wrote Wexler, on Brides. "Before your first appointment, figure out who is paying for the gown (your family, the groom, you?). If someone else is paying, get the hard numbers on your limit, so you can choose to stay within that budget or pay the difference yourself to get the dress you want." Even though you might want to splurge, it's also important to consider which elements of the wedding are most important to you and your partner. If spending less on the dress means you can afford to take your dream honeymoon, then it might be more satisfying in the long run to go with a more affordable dress. Here's how much these 12 brides spent on their wedding dresses, and whether they felt like it was worth it in hindsight.