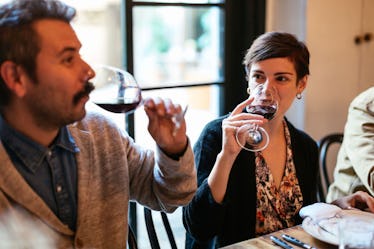 13 Tweets About Meeting The Family That'll Make You #TBT To When You Met Bae's Fam
Meeting your SO's family is an occasion that is equal parts exciting and terrifying. Will they like me? Will I fit in with their family dynamic? Will I accidentally end up saying something super inappropriate or dumb? First off, don't worry — all of these concerns are totally normal and just mean that you genuinely care and want to make a good impression. Just about everyone has experienced some anxious feelings when meeting the family of a new partner, so the best thing you can do for yourself is to try to relax. Also, binge-reading tweets about meeting the family is the probably the next best thing you could do to curb your frayed nerves.
Seriously though, no matter how nice and normal your SO says their family is, the unfortunate truth is that you'll have no idea what you're in for until they have you surrounded. Fortunately, most parents and families just want their child to be happy. As long as you're on your best behavior, drink responsibly, and stay away from hot-button topics like politics or religion, you should be good to go. In the meantime, here are some very relatable tweets to ease your suffering. You're not the first person to meet the family, and you definitely won't be the last.