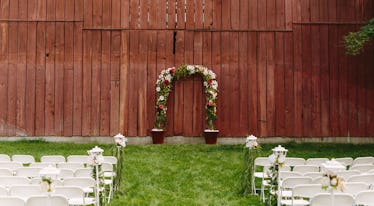 13 Stunning Photos Of Rustic Barn Weddings That Are Beyond Beautiful
When most people think about the perfect wedding venue, a barn might not be the first place that comes to mind. But if the Instagram receipts are any indication, tying the knot in a barn may actually be as magical as it gets, folks. There really are some absolutely stunning photos of rustic barn weddings that will convince even the staunchest of barn nay-sayers that this rustic backdrop can be tranformed into the whimsical wedding location most people dream about.
Although marriages have long been considered ceremonies of a religious persuasion, times have changed. Making a commitment to spend your life with someone isn't inherently connected to religion, and more and more couples are deciding to forgo the traditional church venue. According to The Telegraph, in the UK alone, only 30 percent of marriages in 2012 occurred in a church — the lowest percentage in recorded history. Sadly, there's no data (as of yet) that proves the other 70 percent of those couples opted for a barn, but, if they'd seen any of these photos, then they probably would've. Here are some of the most spectacular photos of barn weddings that are guaranteed to make you swoon.