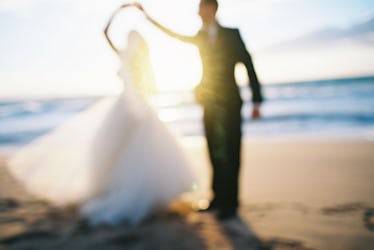 9 Stunning Photos Of Beach Weddings That'll Make You Want To Plan One RN
Getting married can be a seriously exciting time for anyone. If you've been planning your dream wedding since you were nine years old, or if you're simply going to city hall to tie the knot, the day you and bae officially become a married couple is special. And the great thing about getting married is that you get to do it however you want. Elope! Have the most fabulous wedding of the year! Keep it simple! Or don't! The kind of wedding you have is totally up to you and your partner, but these stunning photos of beach weddings will show you how gorgeous a seaside ceremony can be.
For a lot of people, a beach wedding may sound too expensive, or messy, or complicated to pull off. But in all actuality, having a beach wedding can be as simple or as extravagant as you want. Getting married is about celebrating the love between you and your partner, however you want to do so.
But, if you're looking for some inspiration for your own big day — or even if you're just feeling like looking at gorgeous beach weddings for fun — then you've come to the right place. Here are nine of the most gorgeous beach wedding photos ever.