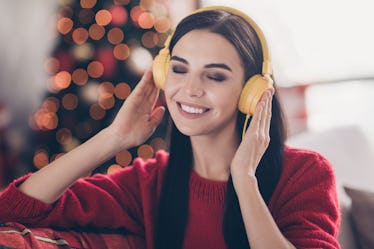 13 Most Romantic Christmas Songs That'll Inspire Some Mistletoe Magic
Shutterstock
Maybe it's the twinkly lights or the gentle snowfall. Or maybe it's just the undeniable air of nostalgia and sentimentality. Either way, one thing's for sure: love is definitely in the air around the holidays — I mean, even the Grinch's heart grew three times larger this time of year. And if you're looking to lean into those vibes, I put together a playlist of the most romantic Christmas songs that'll definitely inspire some magic moments under the mistletoe.
I don't know about you, but for me, music is one of the most powerful ways to summon those festive feels. And whether you prefer pop music, R&B, or old-school jazz, there are Christmas love songs for every kind of taste. Better yet, many of the most popular songs have been re-done again and again, so you can enjoy new versions from some of your favorite contemporary artists — like Camilla Cabello, John Legend, and Ariana Grande.
Whether you're looking for a playlist to put on while you're decorating the tree, wrapping presents, baking cookies, or simply snuggling up by the fire with someone special, there are so many Christmas tunes that will bring out your inner romantic. So, bust out the hot toddies and light the fire — because this soundtrack is guaranteed to give you the warm fuzzies.