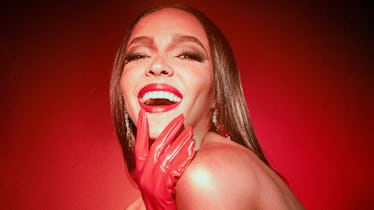 13 Christmas Songs That'll Jolly Up Your Sex Playlist
The words "sexy" and "Christmas" might not inherently go together. After all, what's sexy about an expecting couple on the run, roughing it in Bethlehem and relying on the kindness of strangers to bring the Messiah into the world? But I digress. There are few gingerbread-flavored crumbs of sultriness to go around come December 25, including Christmas songs for your sex playlist. Because what better way to keep warm in a winter wonderland than having steamy, passionate sex?
Believe it or not, there are ways to make getting frisky feel holiday AF. Christmas-themed lingerie? Check. Yuletide sex positions? Double check. Creative holiday props to help you and your partner step up your seasonal sex game? Check again. As you're turning on your fairy lights and breaking out the peppermint massage oil, you'll need a soundtrack for your sexual endeavors. Enter: the songs below.
The following tracks are ripe with dirty allusions involving "unwrapping gifts." There are plenty of sugarplum fantasies and candy cane innuendos to go around. And some songs are infused with that special brand of intimacy born from hot cocoa, mistletoe, and cozy nights by the fire with your partner. Here are 13 Christmas tracks that are jolly good additions to your sex playlist.